Allow Me to Introduce You to the Philippines
Posted By Brianne McKoy On May 29, 2011 @ 1:01 am In Country Trips | 15 Comments

The Compassion Bloggers are in the Philippines [3] and I have come along with them. As usual, I have no idea what to expect but I'm hoping you'll follow along to find out with me.
To get us started, here is some good information:
37: the number of volcanoes located on the islands of the Philippines; 18 of these are active.
19: the number of typhoons that pass through the Philippines every year.
92.2 million: the number of residents in the Philippines, making this country the 12th most-populated country in the world.
322: the number of Compassion-assisted centers in the Philippines.
1 billion: the number of text messages sent daily by the more than 68 million cell-phone subscribers in the country. This little fact has given the Philippines the title of "text capital of the world."
57,579: the number of children registered with Compassion in the Philippines.
7,107: the number of islands that compose the Philippines.
I'm going to be completely candid now: Numbers like these, the sites, the smells, all the differences of the culture, my own reality coming full force against another's reality, all my desire to capture what I am experiencing and bring it to you — all of this results in a very interesting mental mess when I am traveling with Compassion.
It's not healthy for me. And to be honest, I'm not even good with numbers. So you can imagine my dilemma.
Of course, I'll place blame where blame is due. That would be me. I let too many things overwhelm and in many ways overcome me. Which results in me missing out on the most important number — one.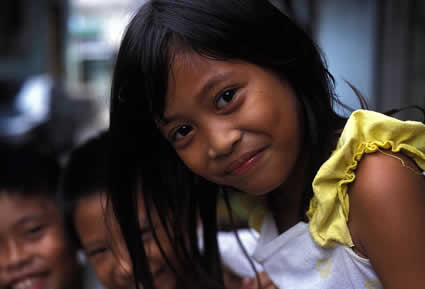 I DO want you to come along. I do want to share with you, in the best possible way I can, what you are doing to transform and encourage children in poverty [4]. So I need to get my wits about me. I'd appreciate your prayers.
I also need to have the focus Jesus has. He leaves a whole flock to go get the one that departs. At this point, I am not sure I would even recognize a stray if I had to look over a whole flock.
This is our journey, infused with Jesus' focus. I am going to focus on the child, the one Jesus leads me to, the one who may be alone.
It is an honor for me to provide you with information that enhances your sponsorship experience. What would you like to know? I will try to get answers to your questions. I believe your questions will inspire and encourage me to stay focused.
---
Article printed from Poverty >> Compassion International: http://blog.compassion.com
URL to article: http://blog.compassion.com/allow-me-to-introduce-you-to-the-philippines/
URLs in this post:
[1] subscribe to our blog: http://feeds.feedburner.com/CompassionBlogPosts
[2] Brianne McKoy: http://blog.compassion.com" rel=
[3] Compassion Bloggers are in the Philippines: http://compassionbloggers.com/trips/2011-philippines
[4] children in poverty: http://www.compassion.com/child-development/child-poverty/default.htm
[5] Image: http://blog.compassion.com/what-do-you-see-in-this-picture/
[6] Image: http://blog.compassion.com/philippines-blog-compassion-bloggers-going-to-the-philippines/
[7] Image: http://blog.compassion.com/let-the-little-children-come-to-me-would-jesus-sponsor-a-child-in-poverty/
[8] Image: http://blog.compassion.com/philippines-pictures/
[9] Image: http://blog.compassion.com/where-does-poverty-live/
[10] Image: http://blog.compassion.com/church-partners-how-do-we-decide-which-churches-to-partner-with/
Click here to print.