Blog Month 2013 Starts September 1
Posted By Web Team On August 26, 2013 @ 12:10 am In Children in Poverty,Join the Cause | 11 Comments
If you remember, last September we held our first Blog Month. And our God-sized goal was to get more children sponsored online that month than we ever had before.
We're not lying when we say our collective knees were knocking a bit as we made the big reveal. Silly us. Not only did you help us reach the goal, but you pushed us comfortably beyond our target. And now, we want to do it again!
Blog Month 2013 starts September 1, and the goal is to get 3,160 children sponsored online by 11:59 p.m. MT on September 30.
You can also view Blog Month 2013 Starts September 1 [3] on YouTube.
New to Blog Month? Here's what you need to know:
Who Can Participate?
Anyone and everyone can participate. But you need a blog in order to complete the weekly writing assignments, and you must be a part of the Compassion Bloggers Network to win any of the prizes.
Join [4] the Compassion Bloggers Network now.
If you don't have a blog, you can still help us achieve the goal by telling others about Blog Month and by sharing blog posts via email and your social networks. You're also welcome to create a blog just for the month of September. We don't mind at all.
How Will Blog Month Work?
Beginning Tuesday, September 3, we will email a weekly writing assignment to members of the Compassion Bloggers Network and will publish each assignment on compassionbloggers.com [5].
Don't feel constrained by our writing assignments. You are not limited to writing blog posts just on these topics.
The purpose of the writing assignments is to create interesting and somewhat challenging writing prompts to get your mind energized and spark your creativity. We hope they make it easier for you to talk about the needs of children in poverty and to ask your readers to sponsor a child [6].
That is the goal after all, to get children sponsored.
We'll be writing along with you each week and will publish our take on each assignment right here on our blog.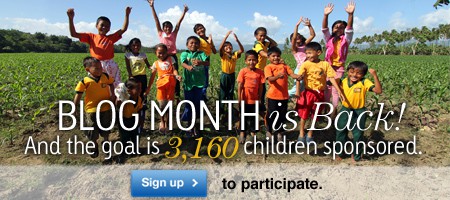 [4]
What are the Prizes and How Can I Win?
The grand prize is a spot on a 2014 Blog Trip.
The first prize winner has the option to attend the 2014 New Media Expo presented by BlogWorld or the 2014 Blissdom conference (talk about a great way to grow your blog and learn more about blogging). It's your choice.
This prize includes your ticket to the conference as well as round-trip (domestic) airfare and hotel accommodations.
The second prize winner will receive a conference ticket to the 2014 New Media Expo presented by BlogWorld OR the 2014 Blissdom conference. Again, it's your choice.
To be eligible for the above prizes you must get at least five children sponsored during Blog Month.
We also have five prize packages to give away. To be eligible for these, you must get at least one child sponsored.
Each prize package contains the following:
This year, we are using Rafflecopter to manage the contest and select the winners.
Each blog post you write will earn you 10 contest entries, after you enter the blog post URL in the Rafflecopter widget below. You can submit more than one blog post for each assignment – as long as each is a unique and different post.
You can also see that the widget has an option to submit additional blog posts and more contest entries. These blogs posts should be written during Blog Month and should contain a link to the Sponsor a Child [6]page on compassion.com.
The above details are very important, but they're just a summary of the complete rules [12], which we encourage you to read in full so you understand how everything will work.
Last year, your enthusiasm was inspiring. Your heart was for children in poverty. It's clear that when the ministry of Compassion meets up with the passion of bloggers, God uses us all to help the "least of these."
We hope you're excited about Blog Month again this year. We think you can be just as successful. Are you with us?
Good! Now go read those rules [12].

---
Article printed from Poverty >> Compassion International: http://blog.compassion.com
URL to article: http://blog.compassion.com/blog-month-2013-starts-september-1/
URLs in this post:
[1] subscribe to our blog: http://feeds.feedburner.com/CompassionBlogPosts
[2] Web Team: https://plus.google.com/+compassioninternational
[3] Blog Month 2013 Starts September 1: http://youtu.be/ziQwy4KEoSk?rel=0
[4] Join: http://compassionbloggers.com/join-the-network/
[5] compassionbloggers.com: http://compassionbloggers.com/assignments/
[6] sponsor a child: http://www.compassion.com/sponsor_a_child/default.htm?referer=88014
[7] Southern Plate, Classic Comfort Food That Makes Everyone Feel Like Family: http://www.amazon.com/Southern-Plate-Classic-Comfort-Everyone/dp/0061991015
[8] A Little Salty to Cut the Sweet: Southern Stories of Faith, Family and Fifteen Pounds of Bacon: http://boomama.net/a-little-salty-to-cut-the-sweet/
[9] Start: http://www.jonacuff.com/blog/start/
[10] Plan B: What Do You Do When God Doesn't Show Up the Way You Thought He Would: http://www.planbbook.com/
[11] a Rafflecopter giveaway: http://www.rafflecopter.com/rafl/display/b4c1ca4/
[12] complete rules: http://www.compassionmedia.com/blog-files/pdf/blog-month-2013-official-rules.pdf
[13] The Key to Ending Poverty is Hope: http://blog.compassion.com/key-ending-poverty-hope/
[14] Three Things About One Word: Silence: http://blog.compassion.com/silence-three-things-about-one-word/
[15] 4,255 Sponsored Children During Blog Month 2013: http://blog.compassion.com/4255-sponsored-children-blog-month/
[16] How Can Repetition Get the Creative Juices Flowing?: http://blog.compassion.com/can-repetition-get-creative-juices-flowing/
[17] September is Blog Month at Compassion: http://blog.compassion.com/blog-month-2012/
[18] And the Winners of Blog Month Are…: http://blog.compassion.com/and-the-winners-of-blog-month-are/
Click here to print.