Archives for: Complementary Interventions
(subscribe)
This week we continue our 10 Questions series on Compassion's holistic child development model with Brandy's interview with Dr. Scott Todd, Special Operations Director for Compassion.
Compassion's Complementary Interventions (CIV) activities, which include the AIDS Initiative, are headed by Scott Todd. Scott, a pediatric AIDS expert, is passionate about meeting each and every need of the…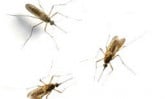 Child-proofing your home is actually a backwards way of looking at it. You're not protecting your house from children…you're protecting children from your house.
If you've been following our 15 Christian bloggers on their trip to Uganda you've seen only a glimpse of what it's like to live in extreme poverty. It's an outside view of Compassion's ministry.
Today we begin a series of blog posts from staffers of Compassion Uganda who will give you an inside look into how…