At the Compassion Mexico Office
Posted By Chris Giovagnoni On August 18, 2008 @ 9:43 pm In Country Trips | 24 Comments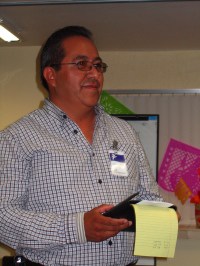 [3]We spent this morning at the Compassion Mexico office. After a brief introduction and welcome by Omar, the country director, our group of 30+ sponsors broke into three smaller masses, in order to get a little more intimate with the different ministry areas.
First stop for "el grupo de Giovagnoni" was Ministry Services. We had a presentation from Cesareo in Finance. It was about the funding process for money to be granted and distributed to a child development center. It was in Spanglish. Cesareo said that, not me.
Next stop on the office tour, Sponsor Donor Services (SDS).
Here's the 411 from the folks in SDS, with a little bleed over from Program Implementation, the stars who work with our church partners.
Compassion Mexico has 129 child development centers in eight of Mexico's 31 states. They help about 20,000 children.
79 percent of the 20,000 children are sponsored. 21 percent are waiting for sponsors. [4]
Chiapas is the poorest state in Mexico and has been for the past 20 years. It's where most of Compassion Mexico's work is done, and it's where we'll be until Thursday. Chiapas borders Guatemala.
Last fiscal year, July 1, 2007 through June 30, 2008, Compassion Mexico processed 23,000 letters from sponsors.
The staff estimates that 45 percent of sponsors write their children and the remaining children don't receive any letters [5].
In the last fiscal year, Compassion Mexico processed 51,000 letters from its children to their sponsors.
Around 80 percent of Compassion Mexico's sponsors are in the United States.
The average number of children in a Compassion Mexico child development center is 160.
Compassion Mexico expects to register another 5,000 children during this fiscal year.
The Compassion Mexico office opened in 1976 and does not currently work with the Child Survival Program or Leadership Development Program – only Child Sponsorship [6] and Complementary Interventions.
And here's some additional info bling strictly from Program Implementation.
The children in Chiapas are three times less likely to grow up healthy and to attend school.
90 percent of children in Chiapas don't attend school regularly. They work as laborers.
After we left the Compassion Mexico office, the rest of our day was spent traveling – by bus from Mexico City to the Toluca airport and then from Toluca by plane to Tuxtla Gutierrez.
Adios for now.
Hope you don't mind that this post has been search engine optimized for the keyword Compassion Mexico.
Read these related posts:
---
Article printed from Poverty >> Compassion International: http://blog.compassion.com
URL to article: http://blog.compassion.com/compassion-mexico/
URLs in this post:
[1] subscribe to our blog: http://feeds.feedburner.com/CompassionBlogPosts
[2] Chris Giovagnoni: https://plus.google.com/100695515199994853053/
[3] Image: http://www.flickr.com/photos/compassioninternational/sets/72157606768383738/
[4] waiting for sponsors.: https://www.compassion.com/contribution/giving/unsponsoredchildren.htm
[5] remaining children don't receive any letters: http://blog.compassion.com/letter-writing/
[6] Child Sponsorship: http://www.compassion.com/sponsor_a_child/default.htm
[7] Mexico Sponsor Tour Highlights: http://blog.compassion.com/mexico-sponsor-tour-highlights/
[8] The Poverty of ME: http://blog.compassion.com/the-poverty-of-me/
[9] Experiencing God in Mexico: http://blog.compassion.com/experiencing-god-in-mexico/
[10] Mexico Sponsor Tour Videos: http://blog.compassion.com/mexico-sponsor-tour-videos/
Click here to print.