Crowned With Abundancy
Posted By Web Team On February 27, 2010 @ 1:34 am In Leadership Development,Multimedia | 4 Comments

The Leadership Development Program (LDP), which began in 1996, recently achieved a significant milestone, its 1,000th graduate.
Joanita Nannyunja completed a bachelor of science degree in agriculture at Makerere University in Kampala. Makerere University is Uganda's oldest and most prestigious institute of higher learning.
You can also view this video about abundancy [3] in YouTube.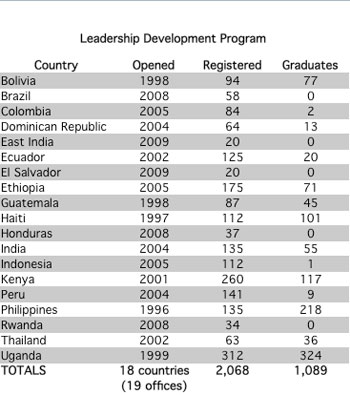 Sponsor a leadership student.
---
Article printed from Poverty >> Compassion International: http://blog.compassion.com
URL to article: http://blog.compassion.com/crowned-with-abundancy/
URLs in this post:
[1] subscribe to our blog: http://feeds.feedburner.com/CompassionBlogPosts
[2] Web Team: https://plus.google.com/+compassioninternational
[3] abundancy: http://www.youtube.com/watch?v=eikv0GswekI&rel=0
[4] From Leadership Development Program to Ugandan Parliament: http://blog.compassion.com/from-leadership-development-program-to-ugandan-parliament/
[5] Bringing Joy: My Best Day in Ministry: http://blog.compassion.com/bringing-joy-my-best-day-in-ministry/
[6] How Can the Leadership Development Program be Improved?: http://blog.compassion.com/how-can-the-leadership-development-program-be-improved/
[7] How Does the Leadership Development Program Selection Process Work?: http://blog.compassion.com/leadership-development-program-how-does-the-selection-process-work/
Click here to print.