Two nights before heading back home to Sri Lanka, my husband and I were walking down a dark side road in Chennai, India. We had just completed a ministry vision workshop and I was pumped. Reaching out to 1,000 children in our little tear-drop nation for Christ? I was ready. Or so I thought.
As we walked, we came upon a small community. It was a slum area, very much like those hidden in the corners of Colombo. People were chatting while they sat on dirty, half-tarred roads.
My eyes fell on a little girl not more than 7 years of age. Bent over a dirty book, she was writing, letter by letter. As she wrote, she said the letters out loud. Her only aid was the dim street lamp across the road. It was her only source of light. I stopped.
How do we reach out to little ones like her? I asked myself. "Do not fear, for I am with you," rang the words written in Isaiah. There were raised voices and drunken men around her. They shouted in a language that was foreign to me. But she continued studying.
Dangers were screaming around her so much that the hair on my arms stood. She was not safe here. Again I asked, How do we reach out to those like her? And the answer rang again, extinguishing the fear in my heart: "Do not fear, for I am with you."
There are many children just like this little girl in our nation, living in violent and fearful communities. That day God reminded me that we are placed here for such a time as this. And in my heart I know we have nothing to fear, for the Lord equips those whom He calls.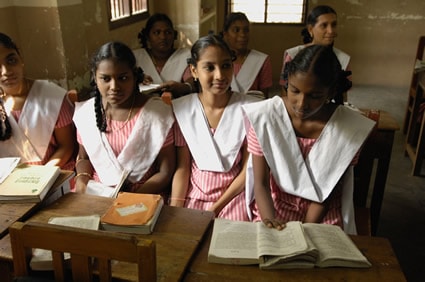 Do not fear, for I am with you; do not be dismayed, for I am your God. I will strengthen you and help you; I will uphold you with my righteous right hand. — Isaiah 41:10, NIV
Prayer: Jesus, we trust in You. Here we are. Send us. Use us. Fill us. We look to You. We have nothing to fear.
---

Read all the One in Spirit devotionals.