Does a Child Have to Be a Christian to Enroll in Our Sponsorship Program?
Posted By Shaina Moats On June 10, 2010 @ 1:49 am In Child Sponsorship,For New Sponsors,Sponsors and Donors | 2 Comments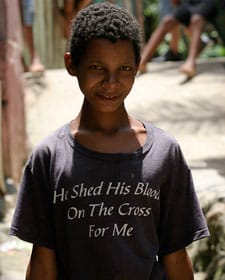 In the contact center, we get many questions about how our sponsorship program operates. And one of the more common questions I am asked is about the enrollment process.
"Does a child have to be a Christian to be enrolled in Compassion's program?"
The answer is, "No way!"
Children are welcomed into our programs regardless of their faith. However, we are unapologetically Christian and every child development center is connected to a Christian church or ministry.
That's one of the things [3] that makes us distinct. We're church based.
While we provide the children and their families the opportunity to see living faith in action, hear the gospel, and be discipled in the ways of Christ, neither they nor their families are under any compulsion to become Christians.
But can you imagine the power of a child coming home and telling Bible stories to family members who are not followers of Christ? Can you picture that mom or dad watching the child transform in front of their eyes because of the love the child has for Jesus?
So, even though the answer is no, children do not have be Christians to enroll or participate in our programs, several hundred children in our programs do dedicate their lives to Jesus every day — without any compulsion, other than the Holy Spirit's.
---
Article printed from Poverty | Compassion International Blog: http://blog.compassion.com
URL to article: http://blog.compassion.com/does-a-child-have-to-be-a-christian-to-enroll-in-our-sponsorship-program/
URLs in this post:
[1] subscribe to our blog: http://feeds.feedburner.com/CompassionBlogPosts
[2] Shaina Moats: https://plus.google.com/111595969828942357523
[3] one of the things: http://compassiondistinctives.org/
[4] Image: http://blog.compassion.com/your-sponsored-childs-photo-what-does-it-tell-you/
[5] Image: http://blog.compassion.com/child-sponsorship-how-do-we-choose-which-children-to-register/
[6] Image: http://blog.compassion.com/christian-child-sponsorship-why-do-children-leave-the-program/
[7] Image: http://blog.compassion.com/why-does-my-sponsored-child-look-so-scared/
[8] Image: http://blog.compassion.com/child-sponsorship-graduation/
Click here to print.