You're Cordially Invited to the Experience Compassion Conference
Posted By Web Team On April 27, 2012 @ 3:40 am In Sponsors and Donors | 2 Comments
We would like to invite you to the upcoming Experience Compassion Conference [3] to be held at our Global Ministry Center in Colorado Springs, Colo., July 21, 2012.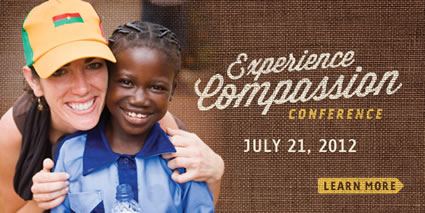 [3]
This one-day conference will feature dynamic guest speakers, meaningful group worship, and an experiential walk-through tour that will immerse you in our field work around the world. We're opening the family-friendly event to our Advocates, sponsors, and anyone interested in learning more about the ministry.
Meet formerly sponsored child Innocent Mucunguzi; worship with Dove Award-winning musician Grant Norsworthy; indulge your curiosities while interacting with program staff; and reunite with friends you may have met on a previous sponsor tour!
Together, we'll tackle topics such as reaching this generation for Christ; approaching your church about partnering with us to release children from poverty in Jesus' name; the Christian response to global poverty [4] with Drs. Scott Todd* and Allistair Sim; and much more!
And if you'd like to blend Experience Compassion with your vacation plans, check out the optional Experience Colorado [5] adventures we've organized for Friday! You'll enjoy some of the best activities beautiful Colorado Springs has to offer.
We look forward to sharing how much we value your partnership in ministry! 
Hope to see you in July!
Limited space available. RSVP [6] deadline is June 18, 2012.
*UPDATE: Dr. Scott Todd is no longer able to join us for this event.
Read these related posts:
---
Article printed from Poverty >> Compassion International: http://blog.compassion.com
URL to article: http://blog.compassion.com/events-in-colorado-springs-youre-cordially-invited-to-the-experience-compassion-conference/
URLs in this post:
[1] subscribe to our blog: http://feeds.feedburner.com/CompassionBlogPosts
[2] Web Team: https://plus.google.com/+compassioninternational
[3] Experience Compassion Conference: http://compassion.cvent.com/events/experience-compassion/event-summary-4dc8deb21ae440fe972da925044fe52f.aspx
[4] global poverty: http://www.compassion.com/global-poverty.htm
[5] Experience Colorado: http://compassion.cvent.com/events/experience-compassion/agenda-4dc8deb21ae440fe972da925044fe52f.aspx
[6] RSVP: http://compassion.cvent.com/events/experience-compassion/fees-4dc8deb21ae440fe972da925044fe52f.aspx
[7] Welcome Home Wally Erickson!: http://blog.compassion.com/welcome-home-wally-erickson/
[8] Join us for Wess Stafford's Retirement Celebration!: http://blog.compassion.com/join-us-wess-staffords-retirement-celebration/
[9] A Formal Invitation: http://blog.compassion.com/formal-invitation/
[10] Life in Haiti After the Earthquake: Carrying On: http://blog.compassion.com/life-in-haiti-after-the-earthquake-carrying-on/
Click here to print.