For most of my life, Father's Day was a holiday that I hoped would come and go as quickly as possible. Like a full third of kids in the United States* today, I was raised by my mother, without a fatherly influence other than a few select people who occasionally filled the role.
My childhood was hard, filled with courts, cops, group homes and questionable friends. My mom and I struggled in our relationship, fought and were continually on the move.
It wasn't until 11th grade that I spent two full years in the same school. I'm not sure what might have been different if I had a supportive, loving father, but that question is still something I ponder from time to time.
In school I was often asked what it was like growing up without a father, and I always gave the same response,
"I don't know. I don't know how to miss what I've never had."
But through all our struggles, there are two things my mother did for me which I can say truly transformed my life.
First, she taught me about my Heavenly Father, His love for me, and to praise Him in good times and bad. And second, she kept finding earthly father figures to speak into my life, encourage me, and help me know that I was loved.
Throughout my travels and time with Compassion, I've been amazed at the parallels between the way that father figures spoke into my life, and the way that child sponsors speak into the lives of our kids!
Words like "you are loved," "God has a plan for you," and regular encouragement to seek God through prayer, are some of the things that father figures shared with me – that you share with your sponsored child.
Now that I'm a dad, Father's Day is AWESOME!
It's a day that my son and I celebrate and remember the great things we do together throughout the year – road trips, camping, cooking, church and much more.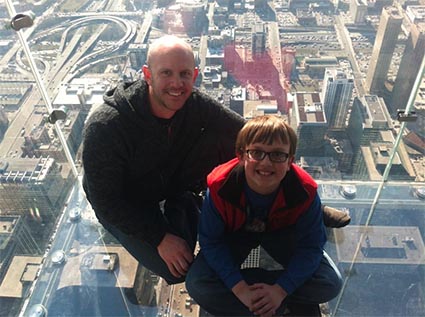 My son and I are very close, and I'm still amazed at how much I love him. I have always tried to instill in him God's enduring love. I'm confident that he knows how special he is to both God – and me.
As an added bonus and reason to celebrate Father's Day, two years ago I found my biological father. Naturally, we had some difficult talks. I asked questions I'd had for years, like "why did you leave," and "do you regret not being a part of my life?"
I am sure the experience was painful for him, but he was honest, and God's grace helped us both reconcile years of anger and regret. In the end we both realized that God has provided us with a great gift to know each other from this time forward.
It still makes me a bit sad to think about all the kids in this country and across the globe who don't have a father in their life. But I'm thankful for the father figures who influenced my life growing up, and I'm thankful for the sponsors who speak into the lives of sponsored children around the globe.
God is a true and great Heavenly Father, but it takes an earthly father/father figure – or in my case a diligent mother – to help kids know about God's love. We are the hands and feet of God the Father, and called to share His love with His little ones all around the world.
---
ABOUT THE AUTHOR: Geoff Peters works as a Product Development Manager at the Global Ministry Center in Colorado Springs, Colo.
*Data cited from Washington Times article, Fathers Disappear from Households Across America