From the Outside Looking In
Posted By Chris Giovagnoni On July 20, 2009 @ 1:21 am In Children in Poverty | 27 Comments

Back in May I published this photo and asked you to give it a caption — Photo Caption Wanted [3]. I also included a little context from the photographer.
"Along the wall outside the Compassion project, many children watched and waited while the other children played and sang. With hundreds and thousands of children needing the hope that Compassion brings, our hearts broke to see the ones that could not be helped. Hundreds more are waiting for their chance to be sponsored, to be given hope, to be shown the love of Christ." —

scfish7
Then recently, I received the following e-mail.
"I read the blog about the children who are registered who are able to sing and enjoy meals while the unregistered ones just stare at them, wishing they were one of them. I have a hard time imagining what this is like.

"Is it like there is a 'Century Fence,' so to speak, that separates these two groups, where the unregistered look in and feel sad as they watch the sponsored eat hot meals and be carefree?

"Does this make them feel more unloved?

"Is it appropriate to send a picture or have one on this Web site so I can see what you are talking about? I have a hard time understanding this and maybe a picture would help."
What are your thoughts? What do the children on the outside looking in feel?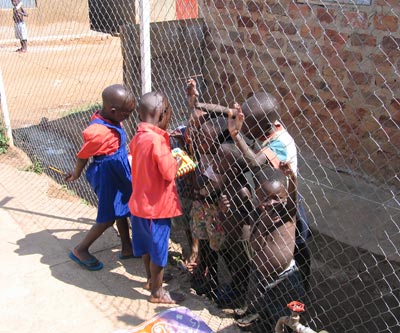 ---
Article printed from Poverty >> Compassion International: http://blog.compassion.com
URL to article: http://blog.compassion.com/from-the-outside-looking-in/
URLs in this post:
[1] subscribe to our blog: http://feeds.feedburner.com/CompassionBlogPosts
[2] Chris Giovagnoni: https://plus.google.com/100695515199994853053/
[3] Photo Caption Wanted: http://blog.compassion.com/photo-caption-wanted/
[4] Letting Go of the Right Dream: http://blog.compassion.com/letting-go/
[5] Maps of Child Development Center Locations: http://blog.compassion.com/maps-of-child-development-center-locations/
[6] Child Sponsorship: It's a Family Affair: http://blog.compassion.com/child-sponsorship-its-a-family-affair/
[7] My Sisters Are Sponsored. What About Me?: http://blog.compassion.com/what-about-me/
[8] Sponsor Letter Photos: http://blog.compassion.com/sponsor-letter-photos/
Click here to print.