At My First Graduation, I . . .
Posted By Becky Giovagnoni On April 30, 2010 @ 1:15 am In Sponsors and Donors | 20 Comments

I knew our Leadership Development Program has graduations. I knew our Child Sponsorship [3] Program has graduations. But I had no idea that our Child Survival Program (CSP) has graduations, until I saw this precious little gem…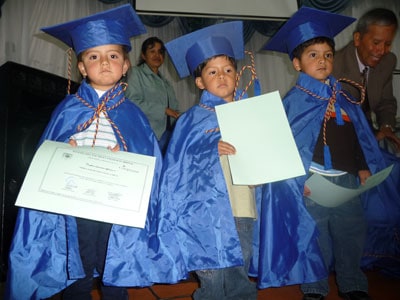 The kids obviously take the graduation ceremony very seriously. (Or maybe they're simply concentrating on holding such a large diploma.)
I distinctly remember my first graduation ceremony … 6th grade. I marched across the stage to get my diploma and then gathered with my class on three tiers of bleachers and sang "Country Roads" by John Denver. Even after 21 years I still remember every word to that song. I wonder what these CSP graduates will remember about their graduation.
How about you? What do you remember about your first graduation? Anything interesting?
---
Article printed from Poverty | Compassion International Blog: http://blog.compassion.com
URL to article: http://blog.compassion.com/graduation-memories/
URLs in this post:
[1] subscribe to our blog: http://feeds.feedburner.com/CompassionBlogPosts
[2] Becky Giovagnoni: https://plus.google.com/u/0/116461253049586081464#116461253049586081464/
[3] Child Sponsorship: http://www.compassion.com/sponsor_a_child/default.htm
[4] Image: http://blog.compassion.com/celebrating-graduation-and-a-bright-future/
[5] Image: http://blog.compassion.com/the-graduate/
[6] Image: http://blog.compassion.com/watch-a-leadership-development-program-graduation-ceremony-via-live-video-feed/
[7] Image: http://blog.compassion.com/three-unexpected-surprises/
[8] Image: http://blog.compassion.com/memorials-for-loved-ones-remembering-our-loved-ones/
Click here to print.