Happy Thanksgiving
Posted By Web Team On November 22, 2012 @ 3:01 am In Sponsors and Donors | 13 Comments

On behalf of the children and God we serve, thank you for the abundant love you share with the world. Happy Thanksgiving!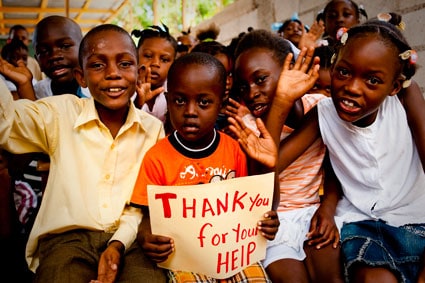 I do therefore invite my fellow citizens in every part of the United States, and also those who are at sea and those who are sojourning in foreign lands, to set apart and observe the last Thursday of November next, as a day of Thanksgiving and Praise to our beneficent Father who dwelleth in the Heavens. And I recommend to them that while offering up the ascriptions justly due to Him for such singular deliverances and blessings, they do also, with humble penitence for our national perverseness and disobedience, commend to His tender care all those who have become widows, orphans, mourners or sufferers in the lamentable civil strife in which we are unavoidably engaged, and fervently implore the interposition of the Almighty Hand to heal the wounds of the nation and to restore it as soon as may be consistent with the Divine purposes to the full enjoyment of peace, harmony, tranquillity and Union.
– Abraham Lincoln, Oct. 3, 1863
Shout for joy to the LORD, all the earth.
Worship the LORD with gladness;
come before him with joyful songs.
Know that the LORD is God.
It is he who made us, and we are his;
we are his people, the sheep of his pasture.
Enter his gates with thanksgiving and his courts with praise;
give thanks to him and praise his name.
For the LORD is good and his love endures forever;
his faithfulness continues through all generations.
– Psalm 100 (NIV)
---
Article printed from Poverty >> Compassion International: http://blog.compassion.com
URL to article: http://blog.compassion.com/happy-thanksgiving/
URLs in this post:
[1] subscribe to our blog: http://feeds.feedburner.com/CompassionBlogPosts
[2] Web Team: https://plus.google.com/+compassioninternational
[3] Image: http://blog.compassion.com/world-cup-fever/
[4] Image: http://blog.compassion.com/pengucapan-indonesian-thanksgiving/
[5] Image: http://blog.compassion.com/pray-for-your-sponsored-child-faith/
[6] Image: http://blog.compassion.com/im-not-quite-rich-enough-to-go-to-disney-world/
[7] Image: http://blog.compassion.com/national-day-of-prayer-2013-can-we-take-a-day-to-pray/
[8] Image: http://blog.compassion.com/lets-get-praying-for-our-sponsored-children/
Click here to print.