Burkina Faso is one of nine French-speaking countries in west Africa. French was introduced by the colonial administration as the official language, and it has become the second language of Burkina Faso (spoken by 15 percent of the population), with the local Mooré (spoken by more than 60 percent of the people) being primary.
The dominance of these two languages leaves little room for languages such as Spanish, Arabic, German or English. These languages, except for English, are offered in secondary schools as optional subjects.
With more international organizations establishing branches in Burkina Faso, the need for people fluent in English has considerably increased.
In recent years, the number of translation service providers has also increased. These are generally private companies founded by alumni of the English and translation departments of the University of Ouagadougou. There also are numerous, individual freelancers who work from their homes.
Translations for our ministry in Burkina Faso generally fall under two categories: child-sponsor correspondence translation and organizational documents translation.
A translator selection process starts when a need is expressed by one of our departments. But the processes vary, depending on which type of translation is needed. Child-sponsor correspondence translation creates the largest demand.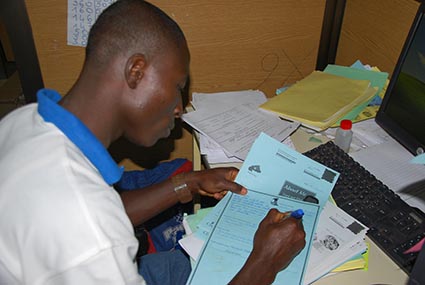 To become a translator for our ministry, an applicant must submit a resume and a cover letter to the country director. A first-round selection is conducted by a board from the program communications department.
A minimum of two years of university English studies, or a stay in an English-speaking country, and minimum experience in translation and interpretation are a few requirements for this first step of the process.
The second step is an interview.
Generally, a four-member jury – all sponsor and donor services associates – agrees on a day to meet with each candidate at the field office. The 30- to 40-minute interview assesses candidates' expression abilities and helps confirm information in their resumes.
When a candidate is deemed successful at this stage of the process, there is one last activity for him or her to complete. That is the written test.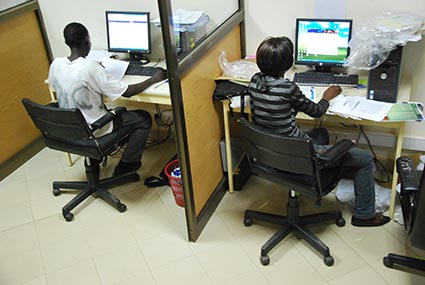 This test gives candidates the opportunity to demonstrate translation capabilities using samples of children's and sponsors' letters.
Ranked 181 out of 187 countries by the UNDP 2012 Human Development Report, Burkina Faso has one of the lowest literacy rates. The average adult spends 1.3 years in school, and only 31 percent of those who go to school will graduate from primary school.
Far fewer pursue secondary education.
Luc, who has a bachelor's degree in English studies, was successful when he applied for a contract translator position. Today he is a letter translator, working at several levels of the letter translation process.
In his own words, he describes some of the most exciting steps of the selection process:
"A letter translator position is not generally advertised officially. At the English Department at the University of Ouagadougou, and sometimes at church through relatives, we get the information that there are translation opportunities at Compassion.

When I was still at university, there was a girl who used to sit at the back and used all her free time to translate some colorful papers. When I sat down at her table one day, I saw the wonderful translation she was doing, and also got to know how and where she got the letters for translation.

I then wrote a motivation letter and a resume containing three references, one of them being a pastor."
For translation services, our ministry in Burkina Faso has a preference for Christian applicants. The reason is simple: the Christian content of most letters written by the children and their sponsors requires a strong Christian knowledge and culture to properly convey the messages.
Without discrimination intent, this is done to make sure a working correspondence exists between children and their sponsors.
Sponsor and Donor Services Supervisor Viviane explains,
"In addition to the fact of being Christian, an applicant must hold at least a two-year university certificate. During the interview and written tests, a minimum requirement would be for the candidate to show good qualification in reading, reformulating and translating complex sentences and ideas. That's what all our translators do."
There are more than 30 letter translators who have formed an association and work closely together. The Hands For Rescue, the name of the association, has a board that coordinates with translators and the Sponsor and Donor Services team at the Field Office.
The translation market is a very expensive one in Burkina Faso. The option of using professional translators was debated, but quickly pushed aside because of cost.
When the ministry was just beginning, and had a relatively low number of letters to translate, those fees were affordable. But today, with 7,000 to 10,000 letters per month needing translating and shipping, the office's budget cannot support the fees.
While a professional institution, such as the U.S. Language Center, the Ministry of Foreign Affairs and other local private businesses propose $8 to $10 (U.S.) per translated page, Hands For Rescue does the job for much less, at a cost of 27 cents (U.S.) per letter (both sides translated).
The choice of working with this association is not motivated by the financial aspect alone, however. Letters we receive are generally not documents of scientific, law or other specialized fields of expertise.
These letters are written with general, everyday English and mostly in colloquial languages.
Therefore, applicants with good university-level English and a strong knowledge of Christian culture qualify for the job.
For Josiane, translating letters for the ministry is…
"a unique experience that keeps your love for children nourished and gives you a wonderful feeling of accomplishment.

As a mother, I journeyed in the minds of these sponsored children and revisited my way of educating my own children.

I watched the football match with the U.S. sponsor and his younger friend in Kaya, Burkina Faso; discovered the work of the Australian vet; shared the passion of soccer of the other Canadian sponsor; and ate sushi on a Korean dinner table … and all that only through letters!"
---