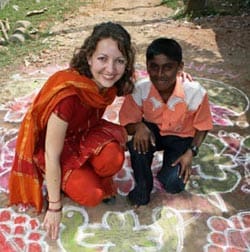 When I visited the boy I sponsor in India, Sarath, he didn't talk so much. We instead communicated with the toss of a Frisbee. But at the end of the visit as he walked me back to the bus, this little boy who had said little else, said over and over, "Please pray for me. Please pray for me. Please pray for me."
Wouldn't it be nice if I could tell you that faithfully every morning now I have kneeled to lift up Sarath and his two teenage sisters and unemployed mother? Too many mornings (and nights for that matter), I'm rushing and distracted and have forgotten the one plea Sarath made of me. Not "send more money." Not "send more gifts." Pray for me.
"Pray in the Spirit on all occasions with all kinds of prayers and requests. With this in mind, be alert and always keep on praying for all the saints." – Ephesians 6:18, emphasis added (NIV).
How seriously do we take prayer? How important do we consider prayer? I know I certainly don't take it seriously enough. It's the Sunday school answer to the issues we hear of plaguing the children we minister to.
How quickly and easily does the phrase, "I'll pray for that" run off our tongues? But do we see prayer for what it is — crying out to the omnipotent God for His incomparable power to work in the lives of these children?
For we don't just throw money at a problem. Our weapon against poverty isn't cash. Our weapons "have divine power to demolish strongholds" (2 Corinthians 10:4, NIV).
As Eric Alexander says, "The great business of the church is prayer. And the greatest need of a needy world is a praying church."
"In all our thinking about Christian service, prayer needs to become fundamental instead of supplemental … Prayer is the work; it is the essence of the task to which we are called, and apart from it, all other work, and I mean Christian work, is a sheer waste of time and energy divorced from the basic work of prayer. Everything else is insignificant." – Eric Alexander
Oh my soul, when will I take prayer as seriously as I ought?
My husband and I just wrote a small group study that is all about learning about the issues in this world and responding to them in prayer. But I still fall so short in this ministry of prayer to the children we sponsor.
So tell me — what do you do to be alert and stay alert as Ephesians 6 says?
How do you keep on praying for all the saints?
What stories do you have of the power of God through prayer in your sponsored children's lives, or your own life?