Nagaraj is an inspiration who has overcome life's limitations to achieve great success. Despite a shaky beginning and a ruptured childhood, Nagaraj built his life with determination.
When he was younger, his father abandoned the family and his mother, Yeshoda worked tirelessly in a garment factory to provide for them.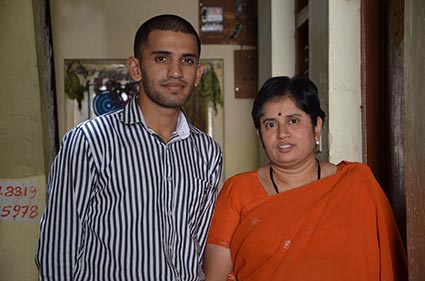 Her income was so low that there were times they couldn't pay rent or buy food. Nagaraj tells us,
"I am glad that Compassion intervened in my life. All of a sudden, there was somebody to take care of me and give undivided attention to my growth."
After successfully completing the 12th grade and earning his bachelor's degree, Nagaraj became an officer in finance and accounting. A few years later he found a job as a pricing officer for Toyota.
That was not the end of Nagaraj's success and achievement, though, and his sponsor is a great inspiration.
"Even though she is 93 years old now, she drives her car, goes to church and she does all things by herself. She is a great example of hard work and she instilled in me that I should dream big and achieve big in life."
From childhood, Nagaraj showed a keen interest in sports. Somehow he was attracted to cycling, and he loved to cruise his way around on a bicycle. He has won several awards and accolades for his feats in cycling and remains an undisputed champion in Bangalore.
A few years back, Nagaraj came across one particular blog of a person who participated in Ironman competitions. This intrigued him so much that he and a friend started training to participate in Ironman triathlons.
Within six months Nagaraj went to Colombo to participate in Ironman 70.3, a half Ironman race that requires 1.8 km swimming, 90 km cycling and 21.2 km running. He finished in 6 hours and placed 5th in the 18 to 24 age category. In the international category, he placed at 148.
Nagaraj's desire is to win a full Ironman. It is a tougher competition, and yet, he wants to compete with the best. He recently registered for the competition, which is to be held in Zurich this summer. Nagaraj and his friend will both participate.
Nagaraj has faced many difficulties and has worked hard to achieve success in his career and in the Ironman competitions. He pours out his heart telling us,
"When I remember the path that I walked through, I see that it was not an easy one. Born in a poor family, losing a father's care and relatives' love was tough. My early childhood days were spent at the child development center.

Everything that I learned there has enabled me to withstand tough times. I cannot forget the staff, who stood with me to change my life.

Now, would I be able to restrain myself from helping the children at the center? No. Never.

The Lord has placed me in a good position to earn better. I am planning to raise funds to help children in need. There are lots of children who did not receive help and were not able to enter the development center. I want to support those children."
Nagaraj has proven himself to be strong by fighting all adversities and obstacles on his way to success. He has paved a way to live his own life independently.
Now he not only takes care of himself but his entire family. The secret behind his success is Compassion, which molded the life of a poor kid, provided him with the best of education and brought to the forefront his hidden talents.
---
Are you a bicyclist, runner or triathlete? Participate in what you love and support children living in poverty by joining Team Compassion!