It's About Giving
Posted By Web Team On November 28, 2012 @ 2:21 am In Join the Cause | 30 Comments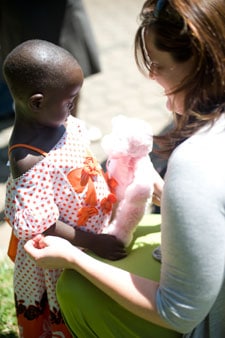 God has many names and many traits. He is multi-layered. Both understandable and beyond comprehension. He is simple and complex without contradiction, and our reflection and representation of Him is the same.
Take giving, for example. Jesus himself said, "It is more blessed to give than to receive." But why is that true?
Many may say that giving is love and leave it at that, content that everything that needs to be said or can be said has been said. But, like a child, we yearn to know more.
Is love incomplete without giving?
Is a gift less of a gift if it's refused?
What is it about giving that liberates the soul?
Giving is transparent and anonymous. It involves time, transcending money and possessions. But is it always these things?
Giving is other focused and is about connecting and caring. It can be both a habit and an effort. It's random and deliberate, as well as difficult and painful. It goes beyond sharing to sacrifice and has it's own unique tastes, smells, emotions and associations, which is what we want your help with.
Let's paint a complete picture of giving this holiday season and see what we come up with. Let's see if what we uncover helps connect us more closely to Jesus and helps make giving a part of our everyday lives.
In December, we'll be using all of our social media channels to begin peeling back some of the many layers surrounding what giving is and isn't. We'll have more to share with you on Dec. 3, but for now,
Here Are Two Things You Can Do
Join us tonight at 7 p.m. EST for a Twitter party [3], hosted by @TheSamiCone [4]. Just follow the #itsaboutgiving hashtag to participate and possibly win some awesome prizes from wise•abe [5].
Share with us the tastes, sounds, feelings, colors and associations you have with giving. Leave a comment below or talk to us in Twitter, Instagram, Pinterest, Facebook, etc.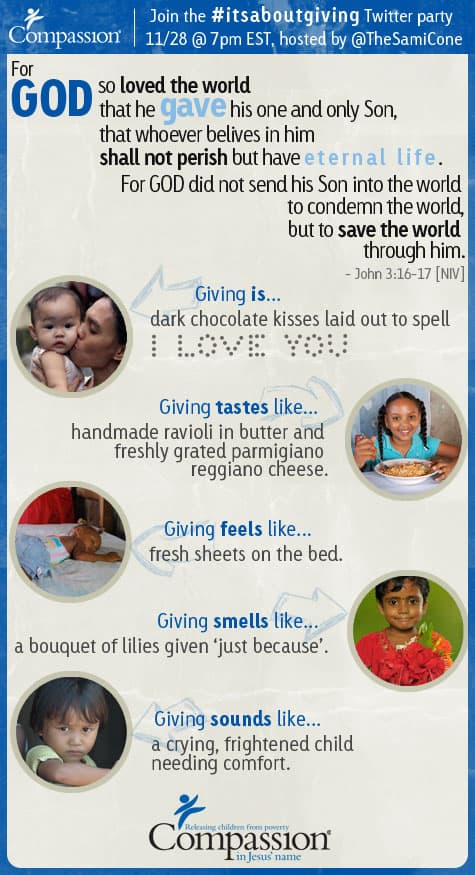 [6]
---
Article printed from Poverty | Compassion International Blog: http://blog.compassion.com
URL to article: http://blog.compassion.com/its-about-giving/
URLs in this post:
[1] subscribe to our blog: http://feeds.feedburner.com/CompassionBlogPosts
[2] Web Team: https://plus.google.com/+compassioninternational
[3] Twitter party: http://resourcefulmommy.com/11025/its-about-giving-compassion-international-twitter-party/
[4] @TheSamiCone: http://www.twitter.com/thesamicone
[5] wise•abe: http://www.wiseabe.com
[6] Image: http://www.compassion.com/catalog.htm?referer=128063
[7] Image: http://blog.compassion.com/20-days-about-giving/
[8] Image: http://blog.compassion.com/the-perfect-christmas-gift/
[9] Image: http://blog.compassion.com/seven-ways-to-give-of-yourself-in-every-season/
[10] Image: http://blog.compassion.com/bad-christmas-gifts-when-gifts-fail-giving-still-wins/
[11] Image: http://blog.compassion.com/our-itsaboutgiving-contest-winners/
Click here to print.