Social media is my job. I manage this blog. I send out the tweets for @compassion. I create the photo sets in Flickr, upload videos to YouTube, update our Facebook status, etc.
I have a good job. I like it a lot. I don't want to do anything else. My fellow webbies are great peeps. Lots of fun. And I love seeing and being a part of the conversations you have with one another. But amid all that I can still be a bit jaded at times.
Since this blog is a place of honesty and transparency, I have to admit that I have been known to say "Who cares?" to a tweet or two. Not any I send, of course.

I also admit to not putting much effort into managing "my personal brand" in those spaces, and that includes our newly launched OurCompassion.
However, on Wednesday, I learned what OurCompassion is really about.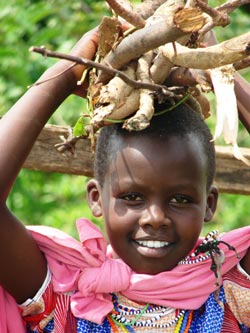 I tend to feel emotionally disconnected a lot. It's one of the themes in my writing. I'm not entirely devoid of emotion, but I do have to make an effort to connect. Jesus is constantly guiding me from my head to my heart.
So on Wednesday, as I'm enjoying the coincidental coolness of meeting Irene, via a story on our intranet, I received an e-mail notification from OurCompassion. Someone had written on my wall. I ignored it. I was "meeting" Irene.
The coolness I'm talking about is that Irene is part of the Shankoe Methodist Child Development Center. That's where my boy, Lerionga, is. And that simple coincidence excited me.
I actually got a bit choked up. Only temporarily though because I've gots lots of importance stuff to do. Can't afford the luxury of joy.

"The first thing Irene does before getting ready to go to the center is pray for the day's activities: Compassion, her teachers, mother, the child development workers and her sponsor."
The first thing I do in the morning is fight negativity. My neighbor wakes me up most weekdays at 5 a.m. with his idling Harley. I have to endure five minutes of mechanical hog grunting and snorting before he drives off.
"Just a few years ago, Irene's family of six used to share a shelter with their livestock. Her mother watched helplessly as her children suffered from the cold. As poverty becomes unbearable, many parents consider marrying off their daughters to get some livestock for dowry."
I gave a $300 family gift to Lerionga and he told me his family bought two cows and a goat.
"Irene's new house is large enough for her entire family of three brothers, two sisters and their mother. The family gift Irene received from her sponsor helped them construct a new and spacious house roofed with iron sheets and filled with good chairs, tables and cushions inside."
Yeah! Lerionga told me that his family built a new house with another family gift I gave. He lives with his mother, father, younger brother and younger sister.
Then, when I finally logged into OurCompassion I saw this, courtesy of my new friend, Jake Malloy:
"My family visited the Shankoe site in Dec. to visit Liaram. Here's a video, maybe you'll see Lerionga.

http://www.viddler.com/explore/jakemalloy/videos/10/"
This is the connection, the joined together thinking, we're talking about. OurCompassion isn't just a social network. It's not about re-creating Facebook. Our Compassion is personal. It's about bringing us closer to the children we sponsor.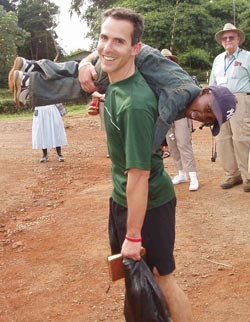 I met Lerionga 2 1/2 years ago in Nairobi. He was one month shy of his 8th birthday. Since then he has asked me when I will come back. I don't have an answer for him. But I do have lots of questions.
I want to know what his house looks like. I want to see the countryside where he lives. I want to know more about his center.
But like you, not all the questions I write in my letters get answered. Letters cross in the mail, take a long time to arrive, seem overly simplistic at times, suffer from poor translation, etc. I really only have my imagination, and some memories, to bridge the distance.
But not anymore!
Thanks to Irene, Jake and OurCompassion, my four-year sponsorship of Lerionga got a little more personal.
---
Even though I've seen many videos like the one Jake shared with me, and Lerionga wasn't actually in this one, the fact that this video showed me places where Lerionga has been flooded me with emotion.
This time I got a bunch choked up, and my important stuff couldn't do anything about it.