This Blog is Going to Kenya
Posted By Web Team On March 1, 2010 @ 1:20 am In Country Trips | 8 Comments

We're traveling with the Compassion Bloggers on their latest trip to see our ministry in action, Mar. 4 -10, and our goal is to help you feel a little closer to the children you sponsor, even if you don't happen to sponsor a child in Kenya.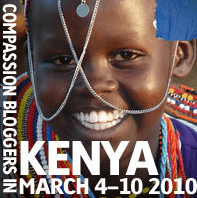 While we're in Kenya, we'll be looking to blog about the hows and whys behind the work our church partners and country staff perform. We want to give you that "Sponsorship 201″ experience, something to complement the stunning, inspirational and tender stories our traveling companions will be delivering, and something that builds upon your existing relationship with us.
We'll be visiting these four child development centers, and these kids [3], who are waiting to be sponsored, are registered at them. If you sponsor one of the children [3], it'll make this blog trip much more meaningful for you. You'll get a great look at your child's world without having to leave the comfort of your home.
KE-301, Kawangware Child Development Center
KE-355, Mathare Community Outreach Child Development Center
KE-611, Kabuku St. John Child Development Center
KE 555, Olturoto Child Development Center
KE-630, Good Shepard Isinya Student Center
KE-727, Jericho Child Development Center
KE-737, Kiserian Child Development Center
See you in Kenya.
---
Follow all of the Compassion Bloggers Kenya blog team on Twitter. [4]
Visit compassionbloggers.com [5] on a daily basis to make this journey through the words, pictures and videos of the other Compassion Bloggers.
---
Article printed from Poverty | Compassion International Blog: http://blog.compassion.com
URL to article: http://blog.compassion.com/kenya-blog-announcement/
URLs in this post:
[1] subscribe to our blog: http://feeds.feedburner.com/CompassionBlogPosts
[2] Web Team: https://plus.google.com/+compassioninternational
[3] these kids: http://www.compassion.com/sponsor_a_child/default.htm?referer=110028
[4] Kenya blog team on Twitter.: http://twitter.com/shaungroves/compassion-bloggers-kenya
[5] compassionbloggers.com: http://compassionbloggers.com/trips/2010-kenya
[6] Image: http://blog.compassion.com/mathare-community-outreach-talent/
[7] Image: http://blog.compassion.com/income-generating-activity-child-survival-program/
[8] Image: http://blog.compassion.com/you-are-giving-children-hope/
[9] Image: http://blog.compassion.com/not-all-heroes-wear-capes/
[10] Image: http://blog.compassion.com/kenya-blog-confessing/
Click here to print.