Korean Orphans Choir: Echoes of the Past
Posted By Jacquie Parella On March 28, 2012 @ 3:41 am In Employees and Culture,Multimedia | 15 Comments

Going through our ministry archives, I found a recording of the Korean Orphans Choir singing, "Lord, I Want to Be a Christian."
Audio clip: Adobe Flash Player (version 9 or above) is required to play this audio clip. Download the latest version here [3]. You also need to have JavaScript enabled in your browser.
Lord, I Want to Be a Christian
In the 1960s, our founder's wife, Miriam Swanson, toured 80 U.S. cities with this choir. The voices of the Korean orphans inspired audiences across the country to sponsor more orphans, and our ministry grew.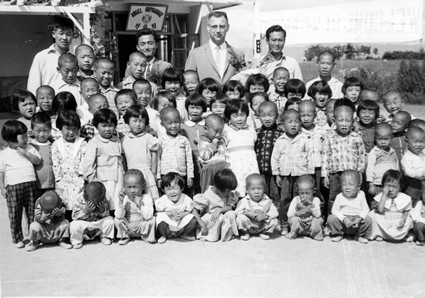 As I listened to this song, I couldn't help but think: This choir, these voices, are echoes of our past. Echoes with a ripple effect that still reverberates to this day.
This year, we are celebrating 60 years of ministry.
Rev. and Miriam Swanson's love for the orphans of war-torn Korea is an echo that, today, ripples to 26 countries worldwide and tells this generation of children that they also are loved.
It is an echo I pray every child hears.
We all have an opportunity in this life to leave an imprint — an "echo" if you will – on the lives of others. What is the echo you want to leave for generations to come?
---
Article printed from Poverty >> Compassion International: http://blog.compassion.com
URL to article: http://blog.compassion.com/leaving-a-legacy-korean-orphans-choir-echos-of-the-past/
URLs in this post:
[1] subscribe to our blog: http://feeds.feedburner.com/CompassionBlogPosts
[2] Jacquie Parella: https://plus.google.com/109824451530454700090
[3] here: http://www.adobe.com/shockwave/download/download.cgi?P1_Prod_Version=ShockwaveFlash&promoid=BIOW
[4] Living the Legacy: http://blog.compassion.com/living-the-legacy/
[5] The Ripples of Child Sponsorship: http://blog.compassion.com/the-ripples-of-child-sponsorship/
[6] Will You Stand for Orphans?: http://blog.compassion.com/orphan-children-will-you-stand-for-orphans/
[7] Never Too Old: http://blog.compassion.com/never-too-old/
[8] Prayers of Encouragement: http://blog.compassion.com/prayers-of-encouragement/
[9] The Compassion Life: http://blog.compassion.com/lay-the-foundation-the-compassion-life/
Click here to print.