Can Twitter Help Get Kids Sponsored?
Posted By Web Team On September 21, 2009 @ 1:27 am In Child Sponsorship,Join the Cause | 29 Comments

Let's find out.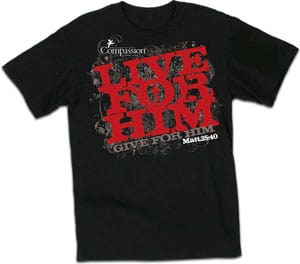 Beginning today and continuing through this Friday (Sept. 25), we will send out tweets about specific children in need [3] of sponsors.
And we'd like you to retweet them for us.
When you do, you'll be eligible to win your choice of some free Live for Him* apparel [4]:
T-shirts
caps
rings
wristbands
Every retweet counts as an entry, and winners will be randomly selected.
Once that child is sponsored, we'll tweet information about another child, and we'll follow that process for the duration of the week.
UPDATE: 9:05 a.m. – When you click on the child link in a tweet and you don't see the specific child's biography, it means that somone is considering the sponsorship. If the sponsorship isn't finalized within 50 minutes, the child will be visible again.
---
*Live for Him products help support unsponsored children in our Child Sponsorship Program, as a portion of each product sold is donated to our Unsponsored Children's Fund.
---
Article printed from Poverty >> Compassion International: http://blog.compassion.com
URL to article: http://blog.compassion.com/live-for-him-twitter/
URLs in this post:
[1] subscribe to our blog: http://feeds.feedburner.com/CompassionBlogPosts
[2] Web Team: https://plus.google.com/+compassioninternational
[3] children in need: http://www.compassion.com/child-development/children-in-need/default.htm
[4] Live for Him* apparel: http://www.kerusso.com/liveforhim/Default.aspx
[5] Live for Him Blog Challenge: http://blog.compassion.com/live-for-him-blog-challenge/
[6] What Is Child Sponsorship, Really?: http://blog.compassion.com/sponsor-change/
[7] What Happens When a Child Isn't Sponsored? : http://blog.compassion.com/support-kids-what-happens-when-a-child-isnt-sponsored/
[8] Expressing Need While Maintaining Dignity: http://blog.compassion.com/expressing-need-while-maintaining-dignity/
[9] Tony Beltran: My Best Day in Ministry: http://blog.compassion.com/christian-child-sponsorship-tony-beltran/
[10] Letting Go of the Right Dream: http://blog.compassion.com/letting-go/
Click here to print.