Nativity Set Giveway
Posted By Web Team On December 12, 2008 @ 1:26 am In Join the Cause | 26 Comments
Yesterday [3], we introduced you to Chantal, a 9-year-old girl from Rwanda.
Chantal is a beneficiary of our Highly Vulnerable Children (HVC) initiative, and during the Christmas season the vulnerability of these children parallels the extreme vulnerability that our God entered into on Christmas Day.
It's a vulnerability portrayed in homes throughout the world by the nativity. And this Christmas season, we'd like to share with you a reminder of God's love and sacrifice for us all.
This handcrafted Rwandan nativity set is as fragile and vulnerable as many of the children we serve. And it's available to one randomly selected reader who answers these questions for us.
On December 18, we'll randomly pick [5] a winner from the comments we receive.
Thanks for participating, and Merry Christmas!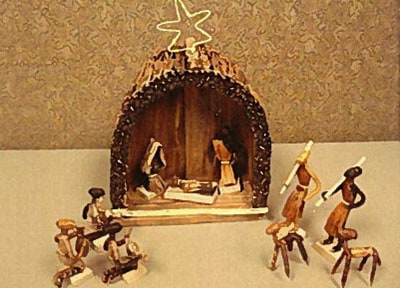 [6]
---
Article printed from Poverty >> Compassion International: http://blog.compassion.com
URL to article: http://blog.compassion.com/nativity-set/
URLs in this post:
[1] subscribe to our blog: http://feeds.feedburner.com/CompassionBlogPosts
[2] Web Team: https://plus.google.com/+compassioninternational
[3] Yesterday: http://blog.compassion.com/highly-vulnerable-children/
[4] complementary interventions: http://blog.compassion.com/category/complementary-interventions/
[5] randomly pick: http://www.random.org/integers/
[6] Image: http://www.flickr.com/groups/compassioninternational/
[7] Merry Christmas!: http://blog.compassion.com/merry-christmas/
[8] Healing Rwanda's Hurting Children: http://blog.compassion.com/rwandan-genocide-healing-rwandas-hurting-children/
[9] A Mosquito Bite Away: http://blog.compassion.com/a-mosquito-bite-away/
[10] A New Take on a Lifetime of Birthdays: http://blog.compassion.com/a-new-take-on-a-lifetime-of-birthdays/
[11] The Power of Prayer and a Loving Family: http://blog.compassion.com/the-power-of-prayer-and-a-loving-family/
Click here to print.