New Year Reflections for 2009
Posted By Web Team On January 1, 2009 @ 1:09 am In Sponsors and Donors | No Comments

Happy New Year! We hope as you celebrate the beginning of 2009 you take time to reflect on the grand blessings and immense grace of the Lord . . . and prayerfully consider what the year ahead may have in store.
Here are a few of our highlights from 2008. In fact, they might be some of yours too; after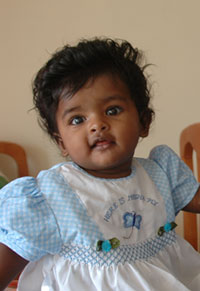 all we could not have reached any of them without you!
We registered our one millionth child.

We opened the first Compassion child development center in Togo.

Compassion Tanzania registered its 50,000 child.
Of course, a year can be marked with trials as well. But through these trials the Lord is faithful to refine us as gold.
Many children and families already struggling to buy food have been, and are still, greatly affected by the Global Food Crisis. Although, with the guidance of God and your heart much has been accomplished:
79,016 children have been able to receive immediate food relief because of your Global Food Crisis (GFC) donations.
In the Dominican Republic your GFC donations provided food certificates to 775 Child Survival Program participants. The main recipients being mothers and infants.
In Honduras your donations created productive micro projects such as poultry and fish production farms, to fight the crisis long term.
In Ethiopia, GFC donations helped provide therapeutic supplements, staple food grains and medication to nearly 11,000 families.
Thank you so much for your commitment to children in poverty [3] this past year. They truly are blessed by your passion and faith.
In all things we can be confident that no matter where the Lord takes us, what situations He brings us into, or what blessings He has in store we will honor Him and be filled with His love.
"Commit to the Lord whatever you do, and your plans will succeed." – Proverbs 16:3, NIV
---
Article printed from Poverty >> Compassion International: http://blog.compassion.com
URL to article: http://blog.compassion.com/new-year-reflections/
URLs in this post:
[1] subscribe to our blog: http://feeds.feedburner.com/CompassionBlogPosts
[2] Web Team: https://plus.google.com/+compassioninternational
[3] children in poverty: http://www.compassion.com/sponsor_a_child/default.htm
[4] Image: http://blog.compassion.com/the-importance-of-names/
[5] Image: http://blog.compassion.com/i-resolve/
[6] Image: http://blog.compassion.com/whats-your-word-of-the-year-for-2013/
[7] Image: http://blog.compassion.com/one-word-2014/
[8] Image: http://blog.compassion.com/reflections/
[9] Image: http://blog.compassion.com/new-years-resolutions/
Click here to print.