As a sponsor since 2009, nothing has inspired my involvement with Compassion quite like OurCompassion has.
When I decided to sponsor my first little girl in Ghana, I found myself hungry for more information. I wanted to know more about Compassion, more about the benefits of sponsorship, and more about Ghana.
I spent quite a bit of time looking at compassion.com, which was helpful, but I found what I most needed – the perspective of other sponsors – in OurCompassion.
OurCompassion Offers Information
In the Gallery section of OurCompassion, sponsors share photos and videos of their trips to visit their children. For those of us who haven't been able to meet our children, these entries give us an idea of what the various areas and child development centers look like.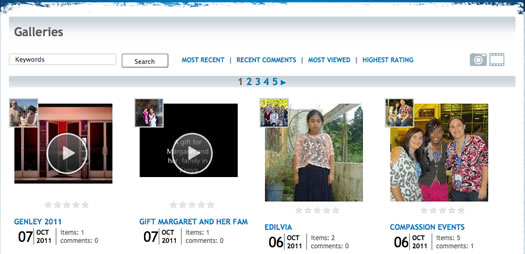 The Gallery also has photos of completed crafts and projects that sponsors have made for their children. Some sponsors post photos they have received after sending financial gifts, giving us all a better idea of just how far a monetary gift can go.
OurCompassion gives us the ability to connect with like-minded sponsors by joining Groups. There are hundreds of groups to choose from, among them are ones for those sponsoring in particular countries, for sponsors of older children, the Compassion Bloggers group and, of course, the group for the monthly letter-writing night.
Another wonderful feature, the recently created child development center groups, allow you to connect and share information and pictures with others who sponsor children in the same child development center.
There is a Google map of the area, which allows you to zoom in to look at the environment and buildings in the neighborhood. In some cases you can look close enough to see walking paths!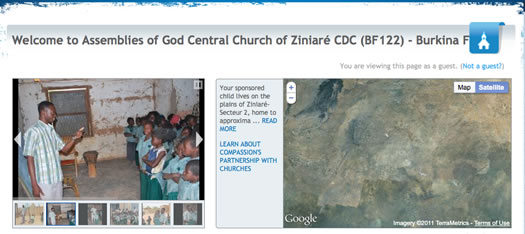 Many child center groups also have letters from the pastor that you can read to get a better sense of the work being done and the needs within your sponsored child's community.
OurCompassion Offers Inspiration
Members can post questions, ideas, prayer requests and discussion topics in the Journals area. By perusing the posts, you will come across many great ideas from other sponsors.
Whether it be someone sharing ways that they have been able to afford more sponsorships or another showing pictures of a project or craft created to send to a sponsored child, there are always interesting new ideas to be found. The enthusiasm is contagious!
"This site has helped me with ideas to write to my kids. It has shown me the importance of writing often and sending little treats.

"Mostly this site helps me remember how others live. I am inspired daily by the people on this site.

"I have read about people giving up things, stepping out in amazing faith, and clinging to God's promises of provision to sponsor more children. I have seen pictures, read stories, and prayed for people about their travels to these countries.

"My life is changed because of this site. I see 'stuff" differently. I spend my money differently and I am so thankful God lead me here!" – Rachel K.
"I have been sponsoring only since last October and was excited about it and enjoyed writing and so looked forward to hearing from my little girl, but it's such a long time in between!

"I stumbled on OurCompassion a couple weeks ago, and it has changed me as a sponsor. Something in me is honestly different! Sponsoring has become REAL now!

"I only wrote when she wrote and I didn't realize just how much our letters mean to them. It never dawned on me that I could write more often.

"Through reading all the journals we all post and through pictures I see, I realize now just how desperately poor these kids are, and even though I live a pretty simple lifestyle I have so much more. Surely there are some things I can let go of so I can help another child!

"I have and I now sponsor two more children since belonging to OC. The Lord has blessed me as I 'follow Him' in caring for our children and the poor. Everyone on OC has been a huge inspiration to me." – Patty
OurCompassion Offers Encouragement
Sometimes sponsorship can be discouraging. Letters from our children come slower than we'd like or they lack details. Or maybe some of life's challenges weigh heavy upon us.
OurCompassion is a family that pulls together to offer support and comfort when needed. As a fellowship of people who share the same faith, we pray for unsponsored and sponsored children in the program as well as one another when needed.
One diligent member named Debbie posts a daily prayer list of unsponsored children who are celebrating birthdays, making it easy for us to go through and lift up each child to specifically pray for them on their special day.
While OurCompassion has a lot to offer us, there are some challenges to using it. It can initially be difficult to navigate and figure out how and where to post.
The Journals area can be found by clicking the Community tab along the top of the page and then clicking the link that says Journals.
You can start a new Journal discussion or introduce yourself by clicking the small blue square with a pencil that can be found on the right hand side of the page.

If you're looking for the Groups, just click the "Connect" tab and then the link that says "Find Groups." You can scroll through the various Groups, search for one on a topic you're interested in or even start one of your own.
The Child Development Center pages can be found by looking at your own profile and scrolling down until you see the box titled "My Child Center Groups."
To make sure that your posts can be seen by others, click the green "Edit Profile" button and then click the "Privacy and Notifications" tab. Make sure that the Privacy Settings menu is set to "All Community."
If you are concerned about privacy you can always change your profile so that it doesn't show your last name or location.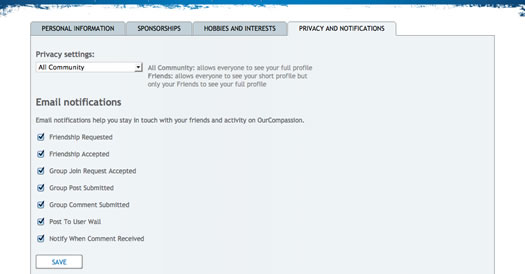 So, while the initial navigation of OurCompassion may be a bit difficult, I definitely think it's worth your time to overcome. Not only will you find information, inspiration and encouragement, chances are you will also find a renewed enthusiasm as a sponsor.
The OC community is always ready to welcome new members, so take a few minutes today to register and look around.
Be sure that you stop by the Journals to introduce yourself!