I don't write to my sponsored children.
WHAT?! I know.
I was looking through my account the other day, and as an employee, I can see the last time I wrote a letter. I'm embarrassed to admit that it was eight months ago.
How did this happen? I'm passionate about children and fighting injustice. I work at Compassion. I explain the importance of letter writing daily. So why have eight months passed since the last time I wrote to my three little ones?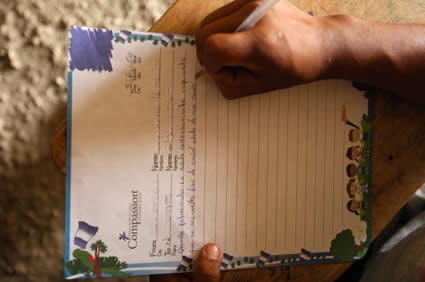 I think this happens to the best of us. Life gets a hold of us and we get distracted. We may even lose sight of the importance of our sponsorship. Compassion becomes just another organization to give to.
I'm certainly guilty of this, but how do I make a change?
A group of sponsors on OurCompassion have gotten together to write their sponsored children on the second Friday of each month … which was a few days ago. There are over 350 sponsors who participate.
I think I need to join. And I think I'll be writing my children tonight.
What about you? How do you stay passionate about letter writing?