Sitting in the humid air inside a tent, listening to the palm leaves sway and the support poles creak, and with her hand clasped on her cheek, Zainabu can still hear the words ringing in her head:
"You have been tested positive for human immunodeficiency virus (HIV), the micro-organism that causes the acquired immunodeficiency syndrome (AIDS)."
When the doctor announced the results, a mood of gloom and despair descended on Zainabu. She did not know where to go or what to do.
"It seemed like my life and the livelihood of my children had been cut, since they all depended on me."
Looking for a shoulder to cry on, Zainabu wondered whom to inform or talk to. Her family and the community had no place for HIV-positive people. "I am an abomination," Zainabu thought to herself.
Zainabu has had a difficult life. Harsh living conditions and extreme poverty left her trying to sell fried cassava and sometimes exchanging sex for money to support her family. This is how she contracted HIV, all in the name of providing for her young family.
Sadly, Zainabu's story is not an uncommon one in Kenya. The prevalence of HIV among Kenyans ages 15-64 is 7.1 percent, which means about 1.4 million people live with HIV (Ministry of Public Health and Sanitation – Kenya World AIDS Day Address,  Dec. 1, 2009).
When Zainabu learned she was HIV-positive, she stayed in denial for some time. She came to grips with her situation when Compassion child development center staff members visited her home during their routine home visits and noticed her ill health. She then had the opportunity to disclose her HIV status.
The staff came to her help and encouraged her to think about life, and began to help her develop goals for living positively. It was during this period that she was given access to health facilities and connected to a doctor who advised her to join support groups and disclose her status.
"After long soul searching and prayer, I joined a local support group and disclosed my status publicly. After disclosing my status, I felt relieved. It was the best medicine for my disease. A new sense of hope arose in my spirit. A dawn of a better future emerged with high determination and commitment to face the disease head on. My anguish and fear were all gone, I could now break the silence, all because Compassion cared for me through the church and the access to health facilities."
Zainabu joined Jipe Moyo Support Group, an initiative supported by the child development center which educates its members on HIV and AIDS. It also empowers family and community members with knowledge of long-term support and care, and raises acceptability of People Living With HIV/AIDS (PLWHAS) by family and community for stigma reduction. Jipe Moyo in Swahili means "take heart, take courage"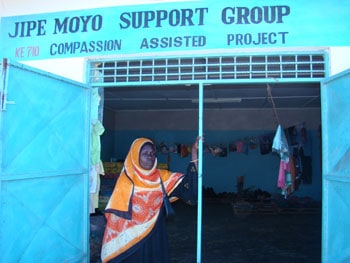 Read these related posts: