Compassion Bloggers Going to the Philippines
Posted By Web Team On May 27, 2011 @ 1:27 am In Country Trips | 2 Comments

Our latest team of Compassion bloggers will be in the Philippines May 29 through June 4, 2011.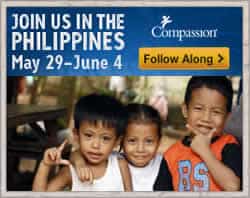 [3]
Throughout this week you will experience a unique glimpse of what it is like to live in this beautiful country. Whether or not you sponsor a child in the Philippines, you can follow this journey through the eyes of:
As we share about this trip, we welcome any questions you may have. So mark your calendars and be sure to check in often to read firsthand what God is doing to eradicate poverty in the Philippines.
---
Do you tweet? Follow the team [12] on Twitter.
Don't have a Twitter account? Not a worry – you can always follow the latest news about this trip here or at compassionbloggers.com. [3]
Read these related posts:
---
Article printed from Poverty >> Compassion International: http://blog.compassion.com
URL to article: http://blog.compassion.com/philippines-blog-compassion-bloggers-going-to-the-philippines/
URLs in this post:
[1] subscribe to our blog: http://feeds.feedburner.com/CompassionBlogPosts
[2] Web Team: https://plus.google.com/+compassioninternational
[3] Image: http://compassionbloggers.com/trips/2011-philippines
[4] Emily: http://www.chattingatthesky.com
[5] Kat: http://inspiredtoaction.com
[6] Keely: http://www.keelymariescott.com
[7] Lindsay: http://www.passionatehomemaking.com/
[8] Patricia: http://jonesbones5.com
[9] Shaun: http://shaungroves.com
[10] Stephanie: http://www.keeperofthehome.org
[11] Tsh: http://simplemom.net
[12] Follow the team: http://twitter.com/#!/shaungroves/compassion-bloggers-phili
[13] Would Jesus Sponsor a Child in Poverty?: http://blog.compassion.com/let-the-little-children-come-to-me-would-jesus-sponsor-a-child-in-poverty/
[14] How Do We Decide Which Churches to Partner With?: http://blog.compassion.com/church-partners-how-do-we-decide-which-churches-to-partner-with/
[15] Challenging the Mindset of a Child in Poverty: http://blog.compassion.com/challenging-the-mindset-of-a-child-in-poverty/
[16] Compassion Bloggers are Going to Peru: http://blog.compassion.com/compassion-bloggers-are-going-to-peru/
Click here to print.