"Poster Boy" Done Good!
Posted By David Dahlin On April 22, 2008 @ 6:48 am In Leadership Development | 9 Comments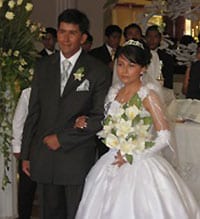 A few years back, Israel Candia from Bolivia served as our "poster boy" for the Leadership Development Program (LDP). He entered our Child Sponsorship Program [3] at age 4 and graduated from LDP in 2004.
Today, Israel is demonstrating the Lordship of Christ by serving as pastor of the Villa Moscu Church. He is also supporting himself economically by practicing law. And, on March 29 he exchanged wedding vows with his beautiful bride, Benedicta!
So, our "poster boy" done good! And that means, you done good! Way to go! Way to go Israel! And, of course, way to go God who "is able to do far more than we would ever dare to ask or even dream of…" (Ephesians 3:20, Living Bible).
---
Article printed from Poverty >> Compassion International: http://blog.compassion.com
URL to article: http://blog.compassion.com/poster-boy-done-good/
URLs in this post:
[1] subscribe to our blog: http://feeds.feedburner.com/CompassionBlogPosts
[2] David Dahlin: http://blog.compassion.com" rel=
[3] Child Sponsorship Program: http://www.compassion.com/about/programs/learningforlife.htm
[4] The Love of Literacy: http://blog.compassion.com/love-literacy/
[5] Watch a Leadership Development Program Graduation Ceremony via Live Video Feed: http://blog.compassion.com/watch-a-leadership-development-program-graduation-ceremony-via-live-video-feed/
[6] From Sponsored Child to Bolivian Cabinet Member: http://blog.compassion.com/from-sponsored-child-to-bolivian-cabinet-member/
[7] Ministry Highlight: Bolivia: http://blog.compassion.com/ministry-highlight-bolivia/
[8] Resilient and Bearing Good Fruit: http://blog.compassion.com/bear-fruit-resilient/
[9] How Can Social-Emotional Education Reinforce Biblical Truth?: http://blog.compassion.com/social-emotional-lesson-plans-how-can-social-emotional-education-reinforce-biblical-truth/
Click here to print.