Please Encourage Our Haiti Staff: Prayers Needed
Posted By Web Team On January 20, 2010 @ 4:31 pm In Country Staff,Crisis | 590 Comments

This blog post is about our staff in Haiti. We would like this to be a bulletin board for you to share your prayers and encouragement for them and
with them.
Although many of our staff have suffered incredible losses as a result of this disaster, we are asking them to perform heroically, and they are!
And they're doing so in the face of loss and widespread devastation that many of us can only imagine. Because we are a world away, it's easy to overlook that what we're asking them to deliver must be obtained in the midst of communication and transportation problems, aftershocks and deep personal trauma.
Numerous members of our staff in Haiti are grieving the deaths of family members and friends. Some have lost their homes, and others are injured themselves.
In light of all this, we ask that you leave a comment or prayer to encourage and strengthen them. We guarantee that they will see your comments, even if the comments have to be printed out in order to be delivered. We hope that as communication becomes more reliable, they will have the ability and opportunity to respond to you.
On behalf of our staff and Haiti, thank you.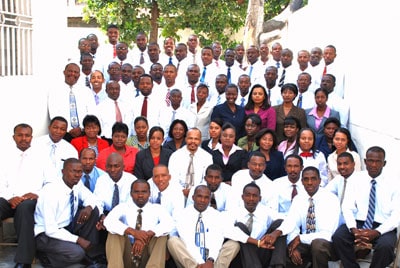 ---
Article printed from Poverty >> Compassion International: http://blog.compassion.com
URL to article: http://blog.compassion.com/prayers-needed-encourage-our-haiti-staff/
URLs in this post:
[1] subscribe to our blog: http://feeds.feedburner.com/CompassionBlogPosts
[2] Web Team: https://plus.google.com/+compassioninternational
[3] Recipe to Help Haiti: http://blog.compassion.com/recipe-to-help-haiti/
[4] A Time Such as This: http://blog.compassion.com/a-time-such-as-this/
[5] Disaster Relief Kit: What's Inside?: http://blog.compassion.com/disaster-relief-kit/
[6] Clean Water for Haiti: http://blog.compassion.com/clean-water-for-haiti-healing-waters-international/
[7] Life in Haiti After the Earthquake: Carrying On: http://blog.compassion.com/life-in-haiti-after-the-earthquake-carrying-on/
[8] Redeeming Haiti: http://blog.compassion.com/after-the-earthquake-redeeming-haiti/
Click here to print.