Questions About Poverty
Posted By Web Team On February 20, 2009 @ 1:59 pm In Children in Poverty | 10 Comments
Over the next two weeks, we'll ask you a series of questions about poverty that we'd like you to answer … because that's the point of asking questions – getting answers.

We'll post one question every weekday.
There will be a total of 10 questions.
Answers to the questions will be published on March 9.
The person who answers the most questions correctly will get a Compassion magnet. Woo hoo! That's big, isn't it? It's bound to keep you "attached" to this contest.
If there is a tie, the winner will be determined by who is most metallic … actually the winner will be rigged (i.e., chosen by the Random Integer Generator [3].
Don't be afraid to take a wild guess, if you don't know the answer.
The magnet looks like …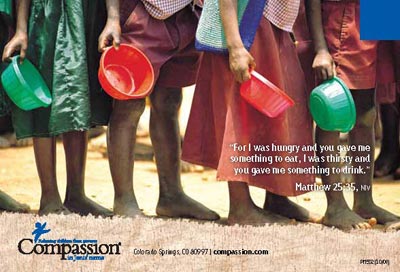 Read these related posts:
---
Article printed from Poverty >> Compassion International: http://blog.compassion.com
URL to article: http://blog.compassion.com/questions-about-poverty/
URLs in this post:
[1] subscribe to our blog: http://feeds.feedburner.com/CompassionBlogPosts
[2] Web Team: https://plus.google.com/+compassioninternational
[3] Random Integer Generator: http://www.random.org/integers/
[4] Poverty Questions … and Answers: http://blog.compassion.com/poverty-questions/
[5] Children Living in Poverty: http://blog.compassion.com/children-living-in-poverty/
[6] Die of Hunger: http://blog.compassion.com/die-of-hunger/
[7] Children in the Developing World: http://blog.compassion.com/children-in-the-developing-world/
Click here to print.