A trip never imagined!
A table, a photo of a child, and a curious young boy all led us to a trip we never imagined possible!
Ten years ago our son, Torrey, saw a photo of James in a Compassion packet. Torrey read that James liked music, sports and reading. Torrey liked all of those things as well. James was the same age as Torrey and lived with his mother and father.
James lived in India. Torrey lived in the United States. Two young boys who enjoyed the same hobbies yet lived vastly different lives.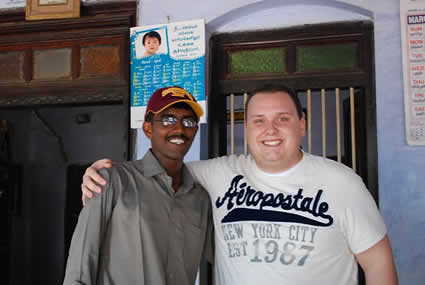 Torrey picked up the photo of James from the table and brought it to me.
"Mom, we need to sponsor James."
Thus began a 10-year-long relationship with James through Compassion International.
Last fall my husband, Jay, observed,
"James will be graduating from the Compassion Child Sponsorship Program. I doubt we will ever get to meet him."
Meet James? Never even considered it a possibility. He lives in India. When are we going to go to India? Do I even want to go to India?
Recently our entire family made the phenomenal trip. We flew halfway around the world to Chennai, India and boarded a sleeper train for a 12-hour ride to Tuticorin.
Then we rode in a bus through crazy traffic to a quiet village 30 miles outside of Tuticorin to meet James.
We were greeted with flowers and smiles by James and his mother and father; his brother, Johnson; and his sister, Jemi. We hugged, ate, walked and visited for an entire day with James, our Indian son!
The next day, James and his sister traveled with us as we visited a few Compassion programs in the area.
We spent the morning at a Child Survival Program. Babies galore! The Child Survival Program assists mothers in taking care of their babies. Through this program mothers are taught proper care and feeding of their babies.
The women are also taught how to learn a trade in order to provide for their families. Many of these young mothers have husbands who are not around or cannot provide for their families. In this particular program many of the women made baskets and scarves and sold them in markets to make some money.
We visited a child development center as well. This center was the one James had attended as a child.
A child development center is a haven for sponsored children to attend Bible classes, enjoy recreation, and receive much-needed food, medication and other essentials. This visit was great fun because we got to see James in his element, with his friends.
Goodbye was bittersweet: the hugs, the tears, the joy of meeting our son and the pain of saying goodbye. All I can remember is James saying,
"Please don't forget me."
A trip never imagined became a trip never to be forgotten.
You can also view this video (Our Trip to India) on YouTube.
1.2 billion people live in India. 600 million of them live in poverty. 200 million of those people live on less than $1 a day. Paul, the country director for Compassion, shared,
"Some days I feel as if I am digging a hole with a toothpick."
We understand this sentiment.
We know that through our son, Torrey, we have made a difference in the life of James. He has a brighter future. He has received a good education. Most importantly, James loves Jesus. Yet this is only scratching the surface of what can be done in India — one child at a time.
---
ABOUT THE AUTHOR: Laura Laffoon and her husband, Jay, live in Alma, Michigan with their children, Torrey and Grace. They are the founders of Celebrate Ministries, Inc., a ministry helping couples celebrate marriage. The Laffoons have been Compassion sponsors for 10 years.