Archives for: Compassion South Korea
(subscribe)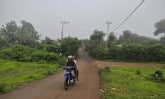 Neldi lost his leg in a motorcycle accident. Sejin became Neldi's sponsor and "just so happened" to have an extra leg to give Neldi.
Story by Barb Liggett, Global Strategy Office Intern
When those with nothing are given enough, they will give back to those who have nothing. This is a foundational belief of Compassion as an organization, and nowhere does it resonate deeper than in South Korea, which is unique as a partner country because of its former status…
You can also view this Thank You Sponsors video on YouTube.