Have you ever wondered what your sponsored child's world looks like? What kind of environment your child lives in?
Have you thought about where your child plays or eats or learns?
Today, by way of our online community, OurCompassion, you can know.

The latest feature gives you a direct look at your child's center. You can view pictures, read a letter from the church pastor and use Google maps to see where the center is located.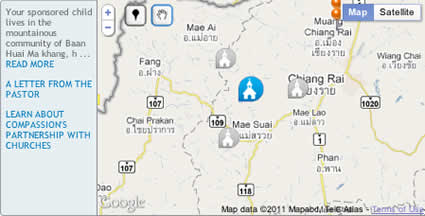 You can also share what you know about the community by adding your photos and videos, writing a journal or posting to the wall.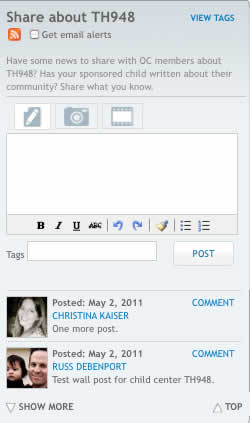 Not every center has pictures yet, but we are working to get them all updated. You can help us, and your fellow sponsors, by uploading your pictures and videos.
Simply create a gallery from your center's page, or if creating a gallery from your personal profile, just tag the album with the center's number (e.g., the first five characters of your child's number – KE-717).
These pages are also the place to lift up the center's staff and children in prayer.
You'll get updated prayer requests, as well as updates, news, stories and crisis updates for your child's country.
The pages are also a place to learn about upcoming sponsor tours.
Don't forget to share your pictures and thoughts afterward.
"My favorite part [of the new pages] is the photos of children playing and making silly faces!" — Stephanie Green
"I love being able to message those who sponsor in the same center, and I love the ability to zoom in on the satellite [maps]." — Michelle Wright
"The pastor letters are definitely my favorite part!" — Joe Henegan
To protect the children and staff, we limit the content we share about centers located in politically and spiritually sensitive areas.
We've also created guest and sponsor views so that only sponsors with children in a center can view the pastor letters or interact with the maps. This was done with the safety of the children in mind.
So whether you have already visited your child, are signed up for the next sponsor tour, or don't see yourself taking a trip anytime soon, the child center pages can bring you one step closer to your sponsored child.
Come take a look at what OurCompassion has for you.