And He looked up and saw the rich putting their gifts into the treasury, and He saw also a certain poor widow putting in two mites. – Luke 21:1-2 (NKJV)
The Perfect Gift — Generally Speaking
The perfect gift comes from the heart. Love drives us to it, and despite the fact it might mean sacrifice, love compels us to give it anyway. We know it's perfect when in love it is accepted — love always fits and need never be exchanged.
The perfect gift is also one that keeps-on giving; it has 'staying power' and continues to give long after it is received. Furthermore, the perfect gift provides the one thing that the receiver is unable to obtain for him or herself. Frankly, if they were able, they would have already gotten it.
Finally, the perfect gift is a blessing to both giver and receiver.
The Perfect Gift — Specifically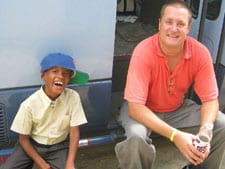 The perfect gift is sponsoring a Compassion child [3]. How can this be?
Love is the driving force behind such a noble thing. For the giver, it's the kind of love that says, "What would I sacrifice in order to save a child's life." For the recipient it says, "This gift is better than any material thing I could have ever received."
Child sponsorship is the gift that keeps on giving. Decide to sponsor a child and you provide educational opportunities, regular healthcare, food and clothing if needed, and an opportunity to hear the Gospel message and to be discipled in the faith.
The perfect gift provides the one thing a person cannot obtain themselves, and in the case of a child living in poverty, that one thing is HOPE. Until someone steps up to help, these children wallow in despair.
Finally, the perfect gift is a blessing to both the giver and the receiver. As you can imagine, a child who is given the opportunity to escape spiritual, economic, social and physical poverty is forever grateful, but so often it is the giver who comes away feeling 'more blessed' then the recipient. How so? I'm not sure — except to say I am confident it is a God thing.
---
Compassion Dave is a member of the Advocates Network. He writes a personal blog, Jesus and Compassion, solely dedicated to getting more children sponsored. The blog is an outgrowth of his highly successful MySpace group of the same name, through which he has connected 40 children with loving sponsors.
Dave has been an advocate for six years, and in that time, has found more than 600 children new sponsors.
This year, Dave has scheduled three Compassion Sunday events:
April 13: Calvary Baptist Church, Little Egg Harbor, NJ
April 20: Chesapeake Christian Fellowship, Davidsonville, MD
May 18: St. Luke's Lutheran Church, Washington, NJ
If you're interested in knowing a little more about Compassion Dave, you can read about him at The Round Table.