Out of the Mouths of Babes
Posted By Web Team On March 18, 2012 @ 12:02 am In Employees and Culture | 7 Comments

My grandson Jamey is six and was talking to his mom Karyn about their upcoming trip to a resort in Mexico. He spends a lot of time reading the Explorer magazine [3] and it all seems to impact him pretty deeply!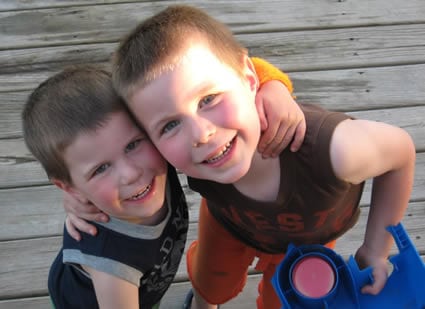 Jamey: I'm feeling a little bit concerned about sleeping in Mexico.
Karyn: What is concerning you?
Jamey: Well, there are Compassion kids in Mexico and on our Compassion building tour Ms. Yvonne said that sometimes kids who don't have enough sleep in cardboard.

Where will we be sleeping in Mexico? And would it be all right if I bring my sleeping bag because I'm not quite used to sleeping in cardboard.
Karyn: You are right Jamey. Some people in Mexico do not have enough, but we will be sleeping in beds at the hotel where we are staying.
Jamey: I don't understand why they can have beds and cardboard in the same country.
I'm praying that it is Jamey's generation that ends extreme poverty in our world with no more children sleeping in cardboard and no more countries where there are both beds and cardboard.
---
ABOUT THE AUTHOR: Mary Lou Elliott is an Executive Assistant in the President's Office at the Global Ministry Center in Colorado Springs, CO.
---
Article printed from Poverty >> Compassion International: http://blog.compassion.com
URL to article: http://blog.compassion.com/things-kids-say-out-of-the-mouths-of-babes/
URLs in this post:
[1] subscribe to our blog: http://feeds.feedburner.com/CompassionBlogPosts
[2] Web Team: https://plus.google.com/+compassioninternational
[3] Explorer magazine: http://www.compassion.com/kids-magazine.htm
[4] Image: http://blog.compassion.com/will-my-name-be-called-today/
[5] Image: http://blog.compassion.com/mexico-poor-suburban/
[6] Image: http://blog.compassion.com/who-is-your-hero/
[7] Image: http://blog.compassion.com/service-to-others-the-joy-of-serving/
[8] Image: http://blog.compassion.com/ministry-highlight-mexico/
[9] Image: http://blog.compassion.com/poblano-pepper-recipe-cook-with-compassion-poblano-soup/
Click here to print.