I recently returned from traveling to Haiti with Compassion. After all the trouble that has been keeping Haiti in the news I wanted to go and see the people, and the devastation, for myself.
I was challenged, amazed, aghast, and humbled — sometimes all in the same moment.
I am not a novice when it comes to visiting foreign cultures. I have been in several countries and done many different things. However, one of the hardest things for me is the way foreign cultures constantly bring out your worst insecurities, and how they seem to underscore the same insecurities again and again.
This will continue until you (1) deal with it, (2) succumb to it, or (3) turn it into strength and move forward.
One day in Cap Hatien we visited the Citadel. It is an impressive 18th-century castle that is, as the name implies, a fortress. It is not meant to be reached easily. Getting there means climbing approximately 3,000 feet in elevation over about 4 kilometers. It is not an easy climb by any stretch of the imagination.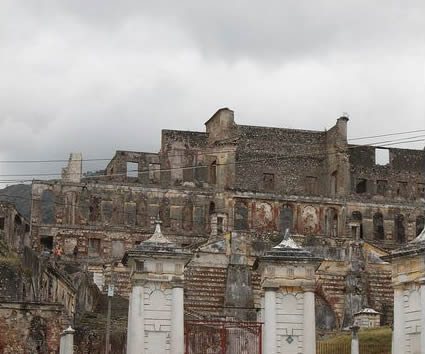 Our group of 30 all rode horses to the top. I may be from Colorado, but I last rode a horse about 20 years ago. My first insecurity was dealing with the fact that I needed to ride a horse and that I really do not like them much.
They are beautiful, but some people simply should not be around horses. I am one of those people.
My second insecurity had to do with the fact that the horses did not appear to be well-fed. They were more the size of donkeys.
Add to this the fact that I am a large individual, and the next problem is even more challenging. What "horse" could possibly take me to the top? It took a while, but we found one.
We all giggled at one another as we got on the horses. I was the last to mount up, and as I planted my foot in the stirrup I realized that the entire village had come out to watch me. "Big Papi!" they chanted, and we were all laughing.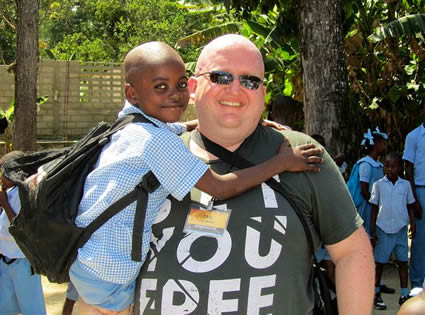 The village was impoverished. I know that God is close to the impoverished, which means that Jesus was laughing at me. I am OK with this. He was having a good time and, when all was said and done, so was I. It just took a while for me to get there.
My infirmity has always been my body. I have dealt with neurological illness, cancer, and other illnesses in recent years and my body has the scars and the stories to prove it. God has been incredibly faithful through it all, and He continues to be. I am reminded of the apostle Paul in 2 Corinthians 12:9-11 (NIV):
"But he [God] said to me, 'My grace is sufficient for you, for my power is made perfect in weakness.' Therefore I will boast all the more gladly about my weaknesses, so that Christ's power may rest on me. That is why, for Christ's sake, I delight in weaknesses, in insults, in hardships, in persecutions, in difficulties. For when I am weak, then I am strong. I have made a fool of myself, but you drove me to it. …"
As I rode up the mountain on my horse, I realized that my weakness was being magnified so that it could be personified in the love of Jesus Christ. As I thought of that I began to weep, but I also begin to relax.
I realized that I was where I was supposed to be at that time, at that place, and that what we were seeing on the mountain was no less than absolute beauty.
The land was lush and green, and the families we met along the way were friendly. They continued to shout "Big Papi!" as my horse and I stammered and stuttered our way up the hill.
My French is lacking, but I knew I was being teased — and also called out. I was being called out to act like a "Big Papi." What this term means to the Haitians is a man, who is healthy, who has money, and who is kind and loving to those around him.
In a country where food is not plentiful, where disease is rampant and people die from diseases we "eradicated" generations ago, I am king because I have beaten the odds.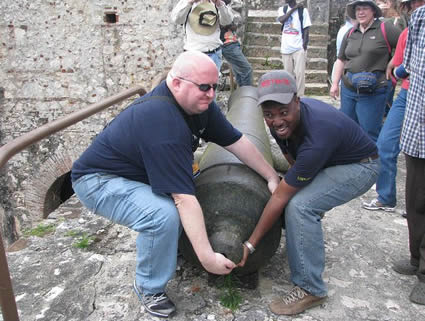 I'm sure that I am not the last "Big Papi" to come to town and ride up the mountain. But I think the local village will be talking for days about the day Big Papi came to town and how he not only laughed at himself mounting the horse, but also relaxed in the knowledge that everyone had only good intentions.
I hope they will remember a Papi who came to the mountain, learned something about himself, and had a heart that grew about three sizes that day. Ultimately, I hope they remember the ultimate "Big Papi" who loves them, who came to this earth and beat the odds, and who still listens to their plight and is not mocked in their pain.
I encourage anyone who is considering a trip with Compassion, or any organization for that matter, to press on and go. It is far too easy to look at statistics and listen to the worst-case scenarios and decide such a trip is not for you.
However, when you are ministering to "the least of these," you actually may find that God is ministering to you as well. That's when true growth happens, and we are all called to grow in our relationship with God, with others, and with ourselves.
---
ABOUT THE AUTHOR: Carl Holmes works in Sponsor and Donor Relations for Compassion International. He is a pastor, theologian, and father of a rambunctious, red-headed 10 year old. You can read his personal blog at thoughtsofagyrovague.com.