Treasure the Children
Posted By Web Team On July 16, 2010 @ 1:44 am In Employees and Culture | 5 Comments

Jesus' disciples asked Him which of them would be the greatest in the kingdom of heaven (Matthew 18:1). Clearly they were still expecting an earthly kingdom and wondering what high positions they might hold.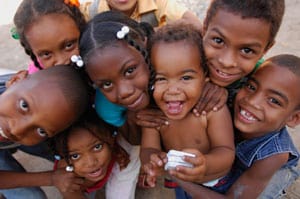 In response, Jesus took a little child, who had no rights under the Law, and stood him in their midst.
"And whoever welcomes a little child like this in my name welcomes me." – Matthew 18:5, NIV
He cautioned the disciples that they needed to change their thinking, and take on the humility of a child.
By directing our service toward people, toward children in poverty [3], we honor the Lord.
But for anyone who might place a stumbling block before a child who believes in Him, "it would be better for him to have a large millstone hung around his neck and to be drowned in the depths of the sea" (Matthew 18:6, NIV).
Though little thought was given to children in those ancient days, Jesus did not overlook them. He treasured them. And we do too!
---
Article printed from Poverty >> Compassion International: http://blog.compassion.com
URL to article: http://blog.compassion.com/treasure-the-children/
URLs in this post:
[1] subscribe to our blog: http://feeds.feedburner.com/CompassionBlogPosts
[2] Web Team: https://plus.google.com/+compassioninternational
[3] children in poverty: http://www.compassion.com/child-development/child-poverty/default.htm
[4] A Child in the Midst: http://blog.compassion.com/a-child-in-the-midst/
[5] Saving My Generation: http://blog.compassion.com/take-chance-saving-my-generation/
[6] Children Speak the Truth: http://blog.compassion.com/children-speak-the-truth/
[7] We Need to Be Kids Again: http://blog.compassion.com/let-the-little-children-come-to-me-we-need-to-be-kids-again/
[8] The Prayers of a Sponsored Child: http://blog.compassion.com/the-prayers-of-a-sponsored-child/
[9] Defining Moments: http://blog.compassion.com/defining-moments/
Click here to print.