Watch a Leadership Development Program Graduation Ceremony via Live Video Feed
Posted By Web Team On June 3, 2011 @ 12:44 am In Leadership Development,Multimedia | 6 Comments

Tomorrow, June 4, at 9 a.m. MDT, you can watch a live video feed of a Leadership Development Program graduation ceremony in Bolivia.
These are young people who grew up in poverty, were sponsored as little children and have overcome tremendous obstacles. They were enrolled in the Leadership Development Program, which enabled them to attend a university and receive intensive Christian leadership training.
Now they are graduating. And we thought you might like to watch.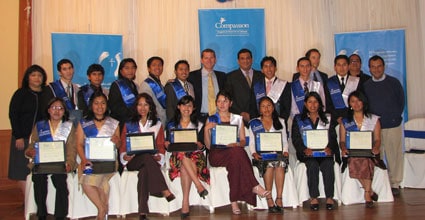 Read these related posts:
---
Article printed from Poverty >> Compassion International: http://blog.compassion.com
URL to article: http://blog.compassion.com/watch-a-leadership-development-program-graduation-ceremony-via-live-video-feed/
URLs in this post:
[1] subscribe to our blog: http://feeds.feedburner.com/CompassionBlogPosts
[2] Web Team: https://plus.google.com/+compassioninternational
[3] What Is God's Greatest Treasure?: http://blog.compassion.com/gods-greatest-treasure/
[4] The Graduate: http://blog.compassion.com/the-graduate/
[5] How do Our Programs Help the Poor Begin and Finish Well?: http://blog.compassion.com/how-do-our-programs-help-the-poor-begin-and-finish-well/
[6] Resilient and Bearing Good Fruit: http://blog.compassion.com/bear-fruit-resilient/
Click here to print.