Win a Free Trip By Finding Sponsors for Children in Poverty
Posted By Web Team On December 16, 2008 @ 1:32 am In Sponsors and Donors | 38 Comments
This post was originally published November 28, but some things have changed.
You have until December 21 to order your child packets, and until January 30, 2009 to mail in your completed sponsorship forms.
---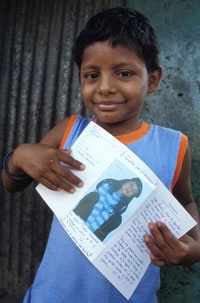 If you're reading this, you're most likely already transforming lives with us. Or you're curious about what we do and how we work. Either way, we're inviting you to help us inspire others to rescue children [3] from poverty in Jesus' name.
This battle we are in — the battle against hopelessness and lies — places millions of lives at stake. And of the more than 1 million children we help, more than 165,000 children still desperately need sponsors. Will you ask your friends, co-workers, family members and neighbors to sponsor these?
If you will, we'll send you child packets of children waiting for sponsors so you can share the packets with others.
If you find the most child sponsors by December 21, 2008 January 30, 2009, we will send you and a guest on an all-expense paid trip to a country where we work!
You'll be able to choose from upcoming trips [4] and travel with a group of sponsors to see our ministry firsthand.
You'll meet the children we are rescuing — face to face.
Also, every person who finds a sponsor for a child will be entered into a drawing for a trip.
Order your child packets today, and thank you for your devotion to God's children.
P.S. If you're not already a sponsor and you want to be eligible to win a trip, please sponsor a child [5] first, then order your child packets. Once you're a sponsor, we'll be able to credit your referrals to your account.
---
Article printed from Poverty >> Compassion International: http://blog.compassion.com
URL to article: http://blog.compassion.com/win-a-trip/
URLs in this post:
[1] subscribe to our blog: http://feeds.feedburner.com/CompassionBlogPosts
[2] Web Team: https://plus.google.com/+compassioninternational
[3] rescue children: http://www.compassion.com/highly-vulnerable-children.htm
[4] upcoming trips: http://www.compassion.com/sponsordonor/tours/grouptours.htm
[5] sponsor a child: http://www.compassion.com/sponsor_a_child/default.htm
[6] And the Winners Are: http://blog.compassion.com/and-the-winners-are/
[7] Letting Go of the Right Dream: http://blog.compassion.com/letting-go/
[8] What Is Child Sponsorship, Really?: http://blog.compassion.com/sponsor-change/
[9] The Happiest Day of a Sponsored Child's Life: http://blog.compassion.com/the-happiest-day-of-my-life/
[10] Where Do You Sponsor a Child?: http://blog.compassion.com/where-do-you-sponsor-a-child/
[11] So You Want to Advocate for Children?: http://blog.compassion.com/want-advocate-children/
Click here to print.