It's becoming a mobile world. Every day, more of the things we do and the connections we make with organizations in our lives happen with our phones. And many Compassion sponsors are finding our iPhone and Android app to be the fastest path to write the child they sponsor, make a payment or send a gift, contact our call center for support, and stay up to date with their child's life.
When we created the Compassion app, we set a goal to "connect sponsors more closely with the child they sponsor." From the feedback received to date, we are on the right path, yet we're excited about the opportunities we have in the future to delight sponsors with new features and opportunities to learn more about Compassion and better understand the lives of the children they have invested in.
Since the launch last Spring of our logged-in app experience, app users have taken advantage of down time in their day to send tens of thousands of letters, and have, in a few taps, sent off thousands of child, family, birthday, and Christmas gifts. And every day, sponsors use the app's prayer suggestions to lift up the needs of the child they sponsor before God's throne.
Over the next few months, we will be rolling out new features like tracking of letters to and from your child and alerts and notifications personalized just for you. In the meantime, here are five useful Compassion App Tips for those who want to take their app experience even further.
1. Ask a Question
Ask a question about your sponsorship (or about the app) from within the app anytime. Tap the menu icon (top right corner), then Feedback & Support to easily send a message to Compassion's contact center. Sponsors have found this an easy way to get support or give feedback about the app, to ask a question about the child they sponsor, change contact info, etc. Most questions are answered within 2 business days.
Some sponsors have encountered bugs or crashes in the app, and giving us feedback through this form helps us solve those bugs more quickly than bugs reported in the app reviews.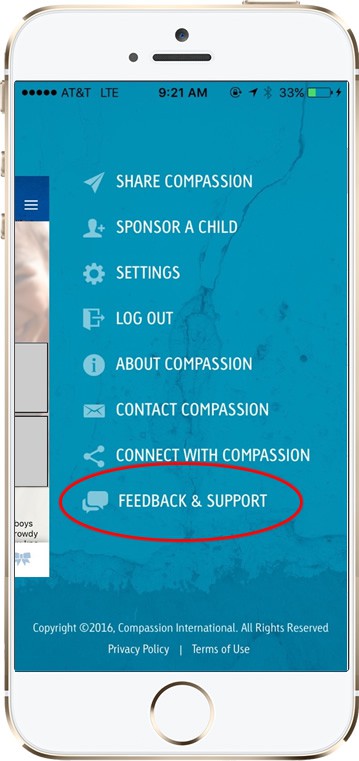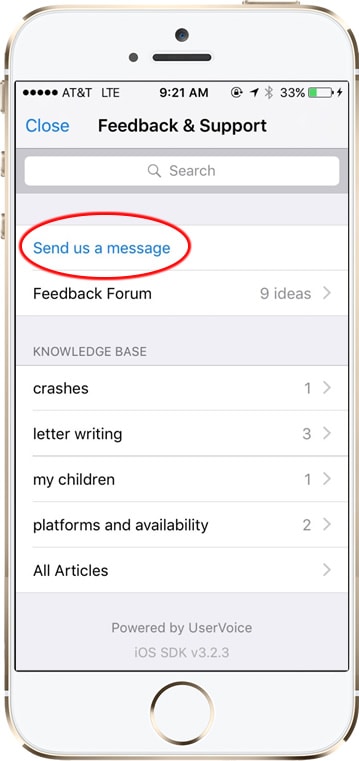 If you like the app and want to encourage others to try it, please consider reviewing the app in the App Store. On the Menu in the app, tap Settings —> Rate App.
Help Families Affected BY COVID-19
Families in poverty have no safety net in times of crisis. Help provide food, medical care and support during this pandemic.
2. Save an Image
You can save the image of the child you sponsor to your phone. Tap on the share icon in the top right corner of your child's picture, and you will be asked if you want to save the image to your phone's image gallery. From there you can use the photo like any other photo in your phone – share with friends or family, save to your computer to print or add to your family's photo collection.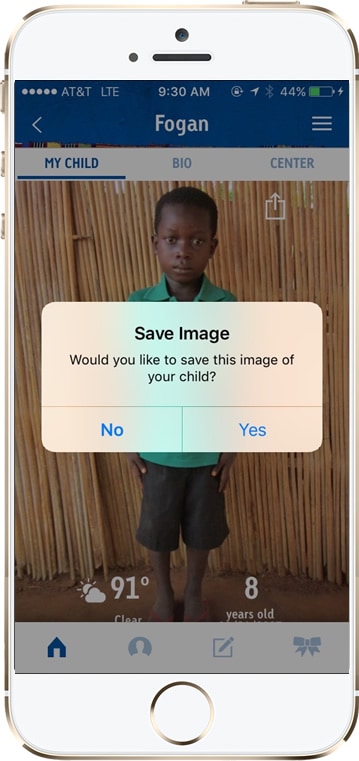 3. Explore the World
Did you know the Center map is clickable? If not, try it out – tap on the map (on the Center tab) to drill down to an explorable map that can give you a feel for the geography and local area where the child you sponsor lives. Is there a picture of the child development center in the app? If so, you can tap it to zoom in and get a closer look.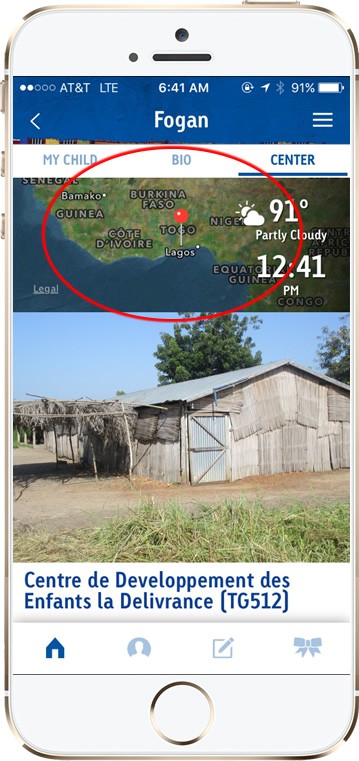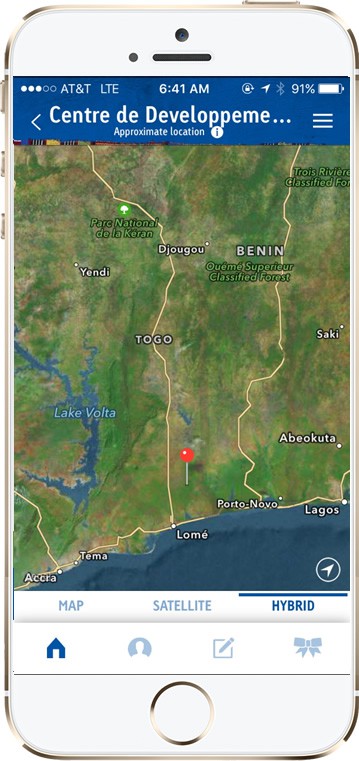 4. Gifts and Payments
While App Store policies prevent us from taking donations directly within the app, you can still use it as a quick starting place when you want to make a payment or send a financial gift. Tapping on the giving buttons within the app will take you to your phone's web browser, where, once you log in, you can save your sign-in information for future sessions for convenient giving with just a few taps. Many Compassion app users have established the habit of opening the app each month to pray for the child they sponsor and make their monthly sponsorship payment.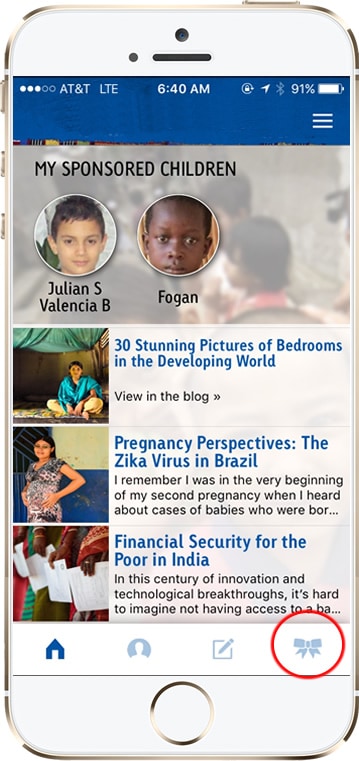 5. Pray!
Want to pray more for the child or teen you've chosen to invest in? Tap on the Pray button under the child's image, and you can view prayer suggestions (new ones each time you tap) and even schedule reminders on your calendar (tap the calendar icon).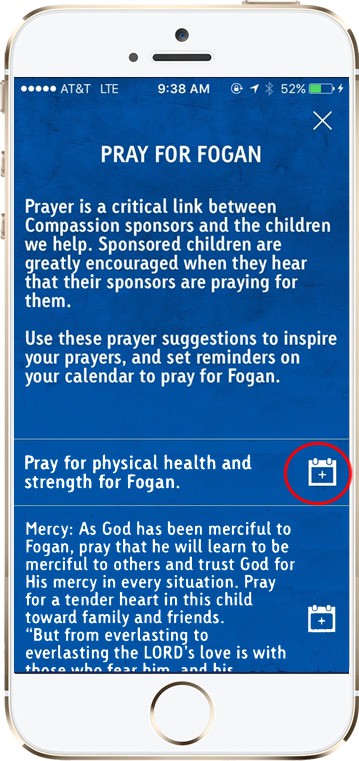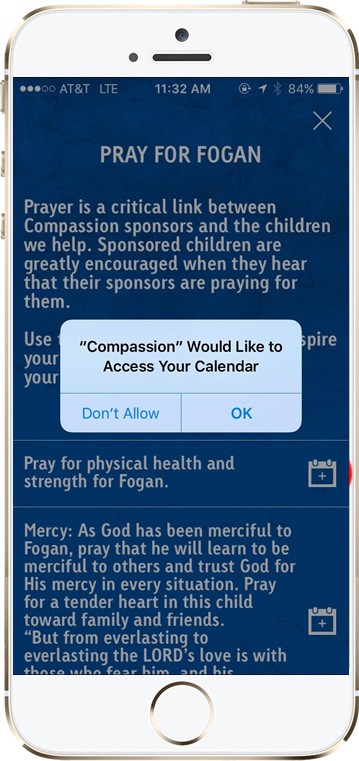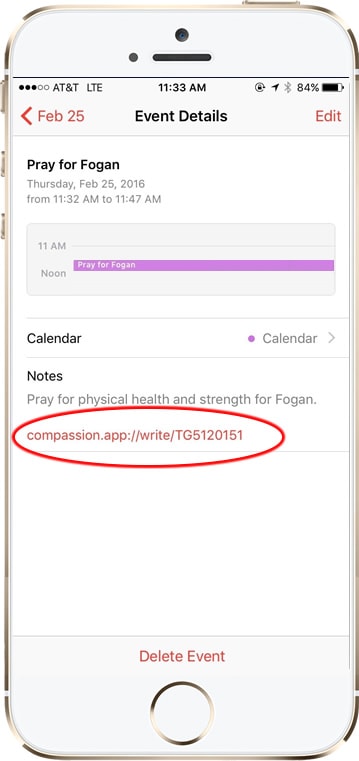 One kind sponsor called the app "one of the best inventions ever." While that is certainly a kind exaggeration, we would like your ideas for what would bring the app closer to living up to that description.
What app features would make a big difference for you?
What ideas do you have to make the app indispensable?
How do you use the app the most today?

We look forward to your comments and ideas below to help us make the app an even better part of your sponsorship experience!
---
Download the Compassion App from iTunes or Google Play.