Recently, my husband and I had the opportunity to have one of the Leadership Development Program Moody scholars stay with us.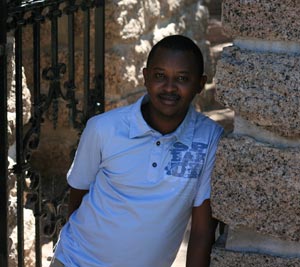 You've met Richmond, Michelle and Tony. Well, "Jimmy from Kenya," as he likes to call himself, is our newest scholarship recipient.
With Jimmy from Kenya (a.k.a. Jimmy Wambua) as a house guest, we were treated to the first reactions to life in America from the perspective of someone who had grown up in poverty.
After the first couple of days, I asked him how it was going and what struck him most about life in America. It was the cheese.
"In America, you are so particular about what you want. You take me to Subway and they ask, 'What kind of bread do you want?' 'What type of dressing do you want?' 'What type of cheese do you want?' In my country cheese is cheese. It's this or it's nothing."
The variety in general was a bit overwhelming to Jimmy.
"When I asked Mike for tea, he opened the cabinet and there was so much. Tropical tea, dessert tea, tea cocktail. Even in cars you have variety. You have a car for different kinds of weather and different activities."
At every turn, we seemed to be asking him to make choices. And let's not even talk about our trip to Walmart.
He was also quite struck by our home and our neighborhood. We live in a fairly typical middle-class American neighborhood and home.
Before he came, I had felt a bit self-conscious because the other hosts of the students were older with nicer homes. I secretly thought he'd be disappointed to stay with us. I know this is a silly worry considering he was coming from a one-room home without indoor plumbing, but I was thinking about the Joneses.
His perspective was different than mine.
"This is the home of a politician. These are the couches of a politician … . This is what I'll call stinking rich. You live in posh environments, but you don't feel they are posh."
Jimmy stayed in our basement, which has an attached bathroom. He said,
"When you first showed me my room, I thought, 'This must be the main part of the house, the best part of the house.' Then I saw it was just the basement. In my country, I could work for years and still not have something as nice as your basement."
I asked Jimmy if it frustrated him or made him angry to see people with so much. I always wonder that when visitors come — are they secretly judging us? Jimmy was gracious.
"Someone without my background who is struggling might be angry. But my feeling is biased because of Compassion. I understand why God blesses Americans — what you give. I believe that spirit of giving has gotten into American culture. You've been able to be content with what you have and give to others instead of keeping it for yourselves. Because of your generosity, God has blessed. God rewards you for listening to his call."
I hope I can live up to Jimmy's generous attitude toward us.