Lest I misled readers with my first entry on the epic move from New York City to Colorado Springs, I must confess that I am not a true city slicker.
While yes, I did most recently come from NYC, it was only a two-year stint for graduate school. An unfortunate amount of that time was spent in a university library.
I grew up in a suburb 30 minutes outside "the city," as it's referred to. (There apparently is no other city comparable in the world according to New Yorkers, so the definite article is used.)
My town was pretty standard: backyard, front lawn, dog and cat, older sister who bossed me around, friends "on the block," peanut butter and jelly in a paper bag, squashed.
I walked to school, played kickball in the street and stoopball at my grandma's before requisite the 19-course Sunday meal.
And while man's talent seems to reign supreme in Manhattan's skyscrapers and Broadway shows, God's talent reigns supreme here in Colorado Springs at Compassion. From the glory of Pikes Peak and tremendous Colorado thunderstorms, to the daily happenings in the conference room near my desk at Compassion, God is sovereign and present.
Part of my first three months here at work has been spent trying to figure out how Compassion functionally works. And that is what I'd like to pass along to any interested readers.
I won't bore you with a PowerPoint presentation on the organizational matrix, but I will attempt to scratch the surface of a beloved organization in order to help us all understand what makes Compassion tick and how it actually does the ticking.
But first, here is the surface.
In order to release children from poverty in Jesus' name, we've got to implement programs that reach the children. That requires funding and support.
So, Compassion is set up to do all three: attract and engage sponsors and donors, provide shared support services, and implement programs.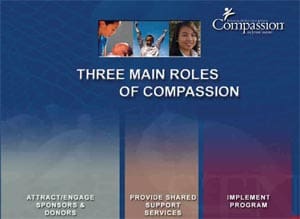 And mind you, my next posts will not be the official version. So please, take this with a grain (lump) of salt.
I'm still getting my bearings here and will be drawing from large corporate documents, orientation presentations and conversations with co-workers.
So, while I'm striving for integrity of information, do not take this as canon, but rather the unofficial version. Understood?
Be assured that it will also unavoidably be tainted with my humor, which often falls flat.
Thanks for coming along for the ride!