I was born in Manyoni District, central province of Tanzania. My family was very poor. For almost 20 years there was no hope. In those days, for me to get food, shelter and clothing was a miracle. No one in our family had an opportunity to go to school.
One thing I can't forget is that we slept on the floor; we had no mattress. We used maize bags to sleep on. We used to sleep in one room with dogs, cows, goats and such things.
The rainy seasons were terrible. The house leaked, so water came inside and everything got wet — as wet as if we were outside. Life was very bad in this way. It made me hate poverty. I wish that Compassion had been in my country then.
After primary school, my older brother took me in and helped me train as a driver — the only avenue for my education.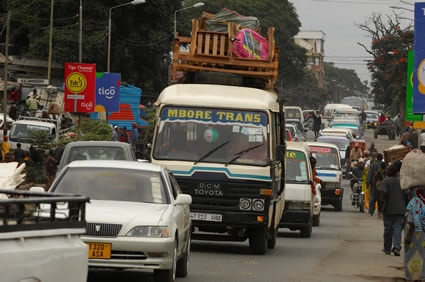 Some time later I saw an advertisement that Compassion Tanzania required a driver. I applied for the position and, after long interviews, I was selected. Since I joined the ministry, my life and that of my wife and children have improved tremendously.
I am not ashamed to bear witness to the name of the Lord Jesus Christ. I encourage sponsors who help children and tell them, "God will not leave you. You are touching God though children."
I need to share that with all of you who are working in this wonderful ministry. This is not a job only, for we are touching God.
God is our refuge and strength, an ever-present help in trouble. — Psalm 46:1, NIV
Prayer: God, help us to impact the lives of children in this world, in the name of the Father, the Son, and the Holy Spirit. Amen.
---

ABOUT THE AUTHOR: James Sanyagalo is a messenger and driver in Compassion's Tanzania office.
Read all the One in Spirit devotionals.