Every month, Jenith Cowley sits down at her computer to write letters to 52 children who live in poverty. It's not because she has a lot of free time on her hands — she's a single mother with a full-time job. She does it because she knows her words can give hope to children living in seemingly hopeless circumstances.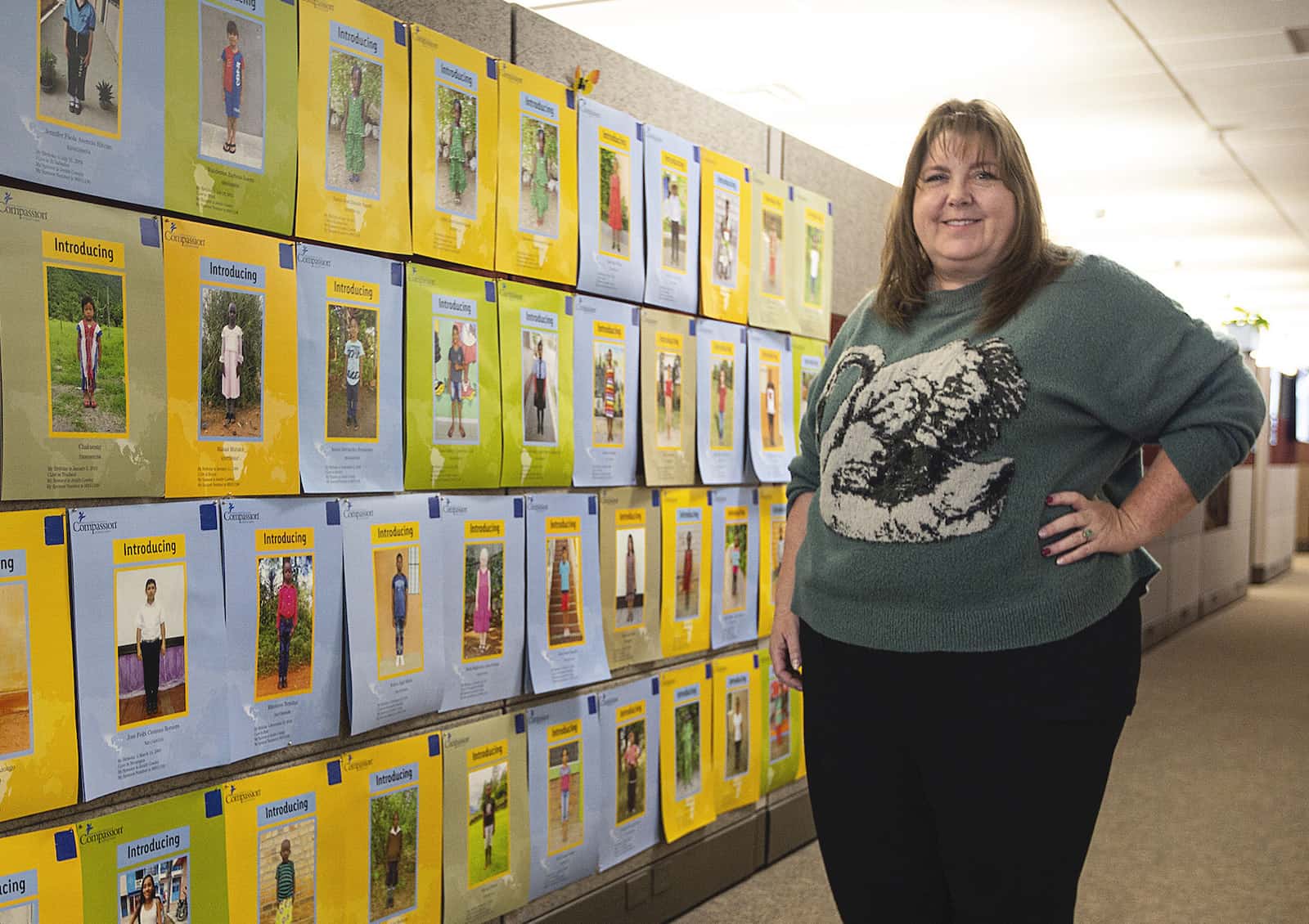 "Letter writing is so incredibly important and makes such a huge impact in the lives of these children," says Jenith, an administrative assistant.
Jenith sponsors two children through Compassion, Vitoria in Brazil and Lamesignew in Ethiopia. Her monthly financial commitment gives them the opportunity to grow, learn and play at church-based child development centers in their communities. She takes full advantage of one benefit of sponsoring through Compassion: exchanging letters with the children she supports.
Like most sponsors, Jenith wishes she had the money to sponsor more children.
"I'm a single mom, so those two sponsorships do stretch me financially," she says. "But it's important, so I welcome the stretching."
When Jenith found out there was a way to encourage even more sponsored children without any extra financial commitment, she signed up to become a correspondent — someone who writes to a child in place of a sponsor.
"There are several reasons that some sponsors might not write letters to the children they sponsor," says Jenith. "I actually picked up my last correspondence because both the sponsors, a husband and wife, got seriously ill at the same time. They want to financially support, but they just can't write at the moment."
For the last 3½ years, Jenith has finely tuned the process of writing letters to children whose sponsors don't write to them. Here are her secrets to writing better letters, becoming a correspondent, or getting a correspondent if you need one.
Tips for Occasional Writers Who Wish They Wrote More Often
"Sponsors might not write because they don't have enough time," says Jenith. "If that's the case, I always encourage sponsors to pick one day a month and make that their letter-writing day. Put it on your calendar and in your planner, set reminders, and spend a little time once a month writing a letter."
Jenith says it takes about an hour and a half to write to all 52 children using the online writing tool on compassion.com. She uses that feature to write the first letter, selects the "duplicate for another child" option and personalizes each letter before sending.
"Throughout the month when I receive letters from the kids, I keep a list of highlights — something that I want to respond to," Jenith says.
"So I make a general letter for all of them, but then I personalize it by speaking to those highlights from their letters."
"I want to encourage them to do well in school," Jenith continues. "Because we have to realize that their family members may not have gone to school and may not fully understand the value of getting an education. So someone has to speak into that — to praise them when they get good grades or pass to the next grade level."
Tips for Frequent Writers Looking to Keep Their Letters Fresh
"I come up with themes every month," Jenith says. "It could be a holiday, or something about my city, or something about my family, or my favorites. And I write about that theme."
In February, Jenith chose Valentine's Day as her theme. She talked about how the holiday is commonly celebrated in the United States, and she tied the theme into God's love for us.
"It's good to tell them that you're praying for them and if they have something specifically that they want prayer for, they always feel like they can ask."
For Those Interested in Writing to More Children in Poverty
If you have the desire to encourage more children in poverty, but you don't have the budget for more sponsorships, do what Jenith did: Volunteer as a child correspondent. That means you'll be writing letters to children in place of their sponsors. These sponsors have opted out of writing and agree to the correspondent arrangement ahead of time.
When sponsored children receive any communication from their sponsors, it brightens their day — and even their lives. Many children save letters from their sponsors into adulthood, keeping them in a safe place and rereading them for encouragement later in life. But some children never receive a single letter from their sponsors. They watch their friends receive letters and wonder why their sponsors don't write to them.
That's when correspondents save the day. If you're feeling inspired to write to a child on behalf of a sponsor, reach out to Compassion's contact center for more information. You can send an email to [email protected] or call 800-336-7676.
For Non-Writers Who Might Need a Stand-in
If you sponsor a child through Compassion and are able to write a letter, you should! The mobile app makes it super easy to dash off a quick note from your phone and upload a photo your child will be excited to see. The online writing tool is also fast and easy, allowing you to choose from different stationery, to copy one letter to multiple sponsored children, and to easily see what your child said in their last letter to you.
But maybe letter writing just isn't your thing. That's OK! In that case, Compassion is happy to find you a correspondent stand-in, so the child you sponsor gets to experience the joy of receiving letters. So if you can't write but want to give your sponsored child that joy and hope, Compassion's contact center will help you find a correspondent. Email [email protected] or call 800-336-7676 to get all the details.
When you agree to a correspondent, you give up your right to send and receive letters from the child you sponsor, agreeing to have a correspondent take over that aspect of your support. You continue to send your monthly financial support to the child and can still go on a sponsor visit. And you will still receive updates about your child's progress, new photos as he or she grows — everything you receive now, except letters.
The Rewards of Writing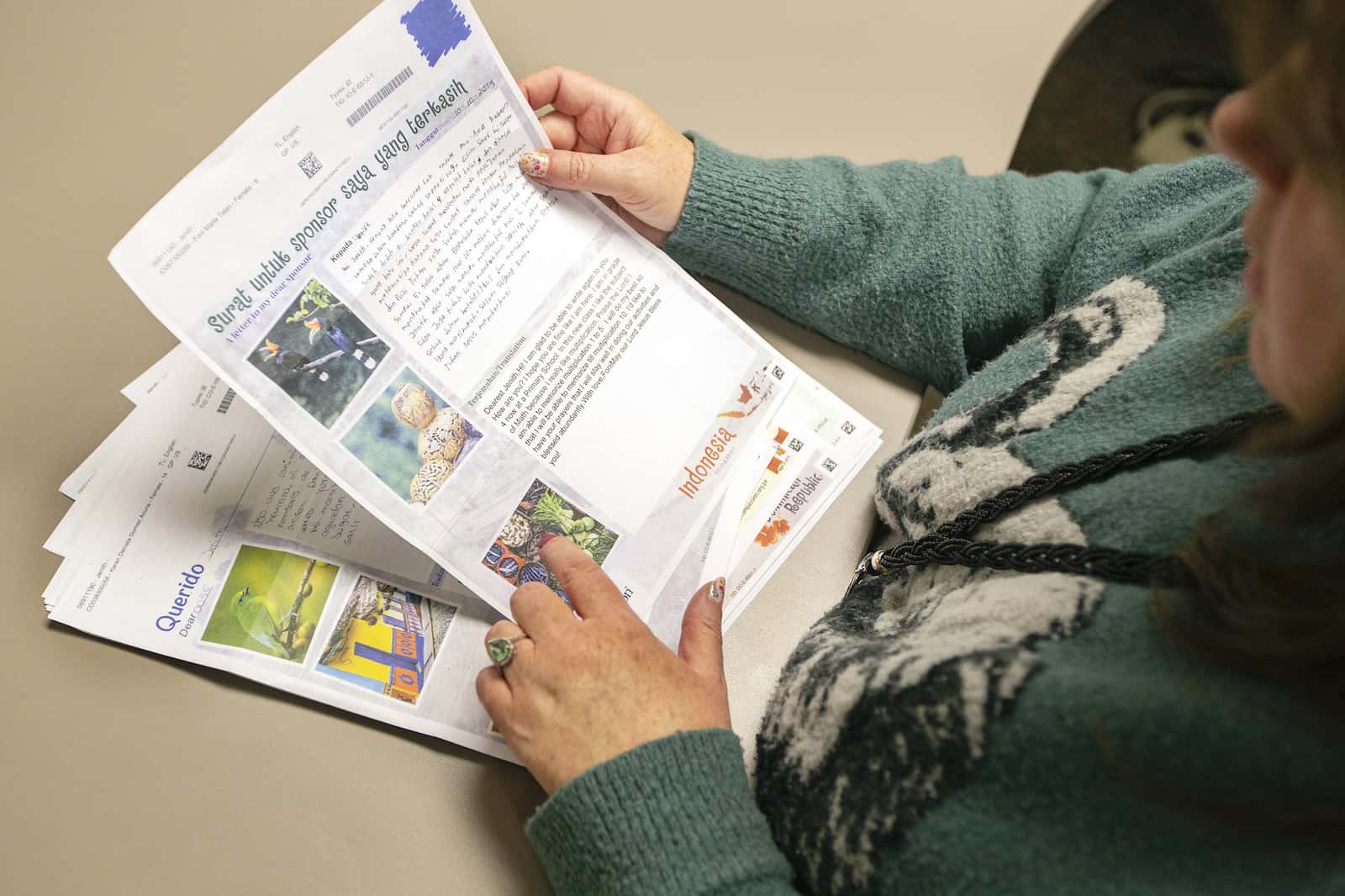 For Jenith, the hour-and-a-half commitment every month is well worth it — especially when she hears back from the 52 children she writes to. They thank her for writing to them, and they tell her how much they love her.
No matter which tools you use to write to the child you sponsor — and how frequently you do so — you are building an important relationship. And you're shining a light into a child's little corner of poverty — where darkness, despair and ugliness threaten to overwhelm.
"I just really believe in the power of our words to have an impact on children's lives," Jenith says, "to remind them of how much they're loved and how special they are, and to encourage them to do their best."
WRITE A LETTER TODAY!›
---
Photos by Daron Short.