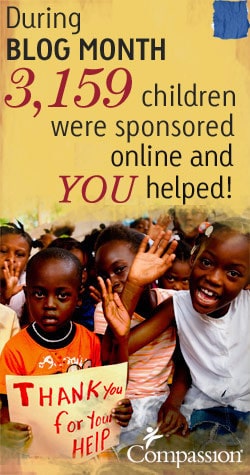 And the winners of blog month are…THE CHILDREN.
Thank you. Thank you. Thank you. And thank you again.

Your participation and support of blog month helped offer hope and opportunity to thousands of children living in extreme poverty. And on their behalf we are grateful.
But who won the prizes?
We'll get to that in a few moments. First, we want to make sure you know how to claim your prizes and giveaways.
Claiming Prizes and Giveaways
To claim your prizes and giveaways:
Send an email to brianne@compassionbloggers.com before Oct. 14, 2012 at 11:59 p.m. MT.
Make sure your email includes: your full name (as used on your tax return), mailing address, blog name, blog post URL(s) and the prize or giveaway you won/earned.
DOWNLOAD THE FULL CONTEST RULES AND TERMS AND CONDITIONS (PDF)
You can search for your name on the list of recipients receiving free copies of one, some or all of these books: You Are a Writer, Wrecked, Just a Minute and Platform, as a thank you for participating in the blog month assignments.
Help Families Affected BY COVID-19
Families in poverty have no safety net in times of crisis. Help provide food, medical care and support during this pandemic.
Assignment One
In which these bloggers referred the most traffic to the sponsor a child page on compassion.com and won gift certificates to the Compassion store.
Blogging from the Boonies ($100)
Only a Breath ($50)
Compassion Family ($25)
Assignment Two
In which you wrote letters to God, that we believe He appreciated very much, and which won these bloggers copies of One Thousand Gifts by Ann Voskamp.
She Getz the Shot: The Post Where You Listen in on a Private Convo
Three Little Larks: Dear God, It's Been a While
With Elephant Grace: Are You There God? Do You Hear Me?
Assignment Three
In which you spread the word about our "My Sponsored Child" Pinterest contest and didn't win anything. 🙁 But these folks did*.
Assignment Four
In which you wrote posts from the perspective of children living in extreme poverty, and these bloggers won a gift for their sponsored children.
wynngraceappears: And I Named My Dreams, I Named Them Big ($100)
An Ounce of Compassion: Someone Loves Wendy ($50)
Faith, Life and Commpassion: Catching the Rain ($25)
And now for the Grand Prize. To the blogger who got the most children sponsored during blog month.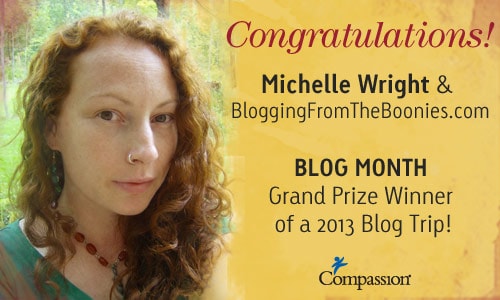 Again, thank you for all your efforts on behalf of the children we serve.
---
*Winners of the Pinterest contest do not have to send an email to claim their prizes as the contest was governed by its own set of rules.