Angelica's father is missing. The last time he'd gone astray, he was found after a few weeks, but now it's been months. Angelica's mother explains that her husband is mentally ill. He used to work on the farm, strong as a water buffalo.
"He just went home one day afraid of dying," says Emma, Angelica's mother. "After that, he kept on saying 'they are going to kill me' over and over until he lost all sense of reality."
Since then, Emma took on the responsibility of raising their four children. Angelica, 6, is the youngest. Emma worked hard day and night as a house-help, earning only $25 a month, until she developed a heart ailment.
In October 2008, the Word of Life Foursquare Church began its partnership with Compassion as it opened the Living Word Child Development Center in the Philippines.
The church surveyed the neediest communities to find children for registration. They went to a community of wooden-stilt houses over a flooded swamp and visited Emma's home. But no one was there.
The child development worker heard of Emma's situation and attempted to see her a few more times, but was unsuccessful.
After a month, the child center was ready to register almost 100 children, but Emma still hadn't been spoken to.
To make sure that the family was at home, the child worker, Michelle, decided to visit the family late in the evening during a storm. It was raining hard and pitch black as Michelle carefully crossed one bamboo bridge after another.
"For the first time in my life, I was thankful for lightning because it was my only source of light."
Recalling that stormy night when Michelle visited their house, Emma says,
"(Michelle) came several times before, but I was always out. Then she came in the evening during a storm. That really meant a lot to me. She bothered to come, and her coming proved that she really cared. The church really wanted to help."
The Living Word Child Development Center opened after it registered its first 100 children, including Emma's daughter, Angelica.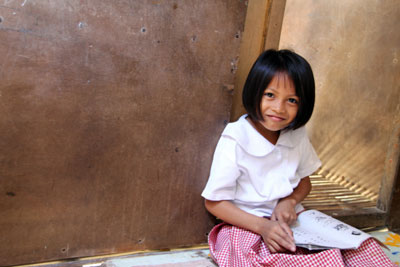 The center gathers the registered children every Saturday for their learning activities, school tutorials, Bible stories, fun, play and food. The center conducts regular medical and dental checkups for the children, and through Complementary Interventions, the center is also implementing a "Crush Tuberculosis" program.
Angelica looks forward every Saturday to her time at the center. She loves to study and draw, and she can now read and write on her own.
"(The center) is my second home. I enjoy playing there and listening to stories."
Michelle says Angelica is one of their jolliest and most active children.
"She is a joy to have around. One day, she refused to eat her snacks and fruits. She is never out-of-mood and so I approached to ask her what's wrong. I thought she might be sick. Angelica answered, 'I will take my food home to give to my sister, Hazel. It's her birthday today.' "
Michelle later found out that Angelica even gave some of the food to her cousin, who lived nearby. She has never regretted braving the storm that night to meet Emma.
A few months after the center opened, Emma decided to give her testimony at one of the Bible study classes for the parents.
"I thought God had forgotten us. This is why I love coming to our Bible studies because I feel that God had not forsaken us."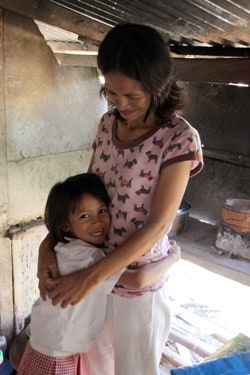 Today, Emma and all her children regularly attend church. Emma has stopped working completely due to her heart condition, and now her two children, Alfie, 14, and Hazel, 12, work at nights to earn money for the family. They sell balut eggs (steamed duck eggs, a popular evening delicacy) to motorcycle-taxi drivers.
After school, they walk a kilometer to a gasoline station and sell the eggs from 5 to 8 p.m. They earn around $3 a night.
The other daughter, Alma, 13, stopped going to school to assist her mother at home.
Angelica's father is still missing.
Emma says Angelica repeatedly prays, "Lord, please make my mother healthy, and help my father find his way back home."