Luz is going to the farmers market today. She is taking her 3-year-old daughter, Vanesa, with her, to search for food. Thousands of mothers for many years have come here daily to find food for their families.
Join Luz and Vanesa as they look for food by clicking on the image below to a view a slideshow of their search.
Select "Show Info" in the upper right hand corner of the slideshow to read each photo's caption.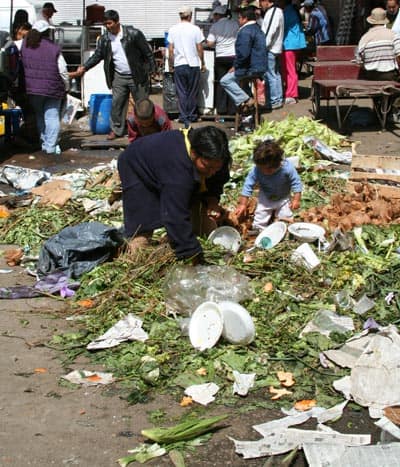 ---
Upload your photos to our Flickr group. Show us how you see poverty.
Continue Reading ›
I am walking down the streets of Soacha, a town of 500,000 that surrounds Bogotá. The neighborhood is called "San Nicolas," a poor sector with two-story houses made from brick. Above the rooftops hang electric cables.
Shoes are draped over the cables, hanging from their laces. They seem to me to be part of the decoration. But later someone explains to me that gangs put them there to mark their territory.
This is a typical day in October, with sun in the morning and rain in the afternoon.
I keep walking under the sun through the streets searching for the student center, and I find all kinds of small businesses along the way, such as small stores where women can buy food to make their daily meals and a few Internet cafes with video games.
Children are visiting the stores. A few minutes later, I cross by a street seller of fresh fish, as a couple of street dogs search around him for food.
Behind the moving people and buses, I spot the student center. I arrive at the same time that Michael and Jeferson do. (more…)
Continue Reading ›
The main room is decorated with Christmas posters. Children are laughing and talking. One can feel the atmosphere of Christmas, the musicians do not stop singing, while children finish eating dessert.
Continue Reading ›
Maritza, from the window of her one floor house, is watching me as I come towards her home. It is made from planks of wood, painted in blue heaven, and between plank and plank the sunlight streams inside.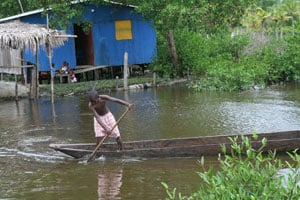 To get to Maritza's house, I jumped from stone to stone to keep out of the mud and also crossed on planks above the stagnant water.
My guide is telling me that we are in the dry season. In the rainy season the rivers overflow the streets and the water rises up to the people's waists, so they use boats to get around.
In those times the children get skin infections and fevers from the mosquito bites.
Maritza lives with Franklin and their six children; they lost three children because she was sick in those times.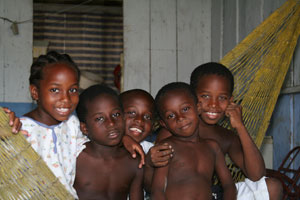 Today the boys are only in shorts and without shoes. I can see two single beds where they sleep together. Right now, they are enjoying the hammock hanging in the center of the main room.
At first, Maritza, 34 years old, is a little bit nervous to talk with me but she understands that their situation is like many families in Uraba. (more…)
Continue Reading ›