This week, I witnessed one of the most precious moments I've experienced since working at Compassion. I'm traveling as a writer with about 25 sponsors on a Sponsor Tour in Guatemala. On Monday, a few of us visited Chico's home.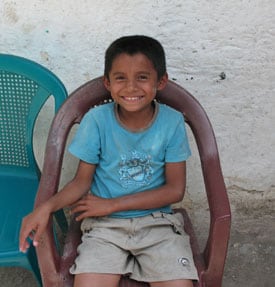 Chico is an adorable 9 -year-old sponsored child. He and eight other family members live in one house with no electricity. His mother, Miriam, does what she can to support her family.
"I work all day, every day to take care of my children. I make tostadas and sell them. Since their father left me, it's up to me."
Making and selling tostadas brings in about $10 a day.
While we interviewed the family, Laura, a sponsor from Virginia Beach, Va., asked Chico if he knew Jesus. After our interpreter, Carlota, asked Chico the question for us, she started to cry. I couldn't figure out why.
Carlota explained that Chico's answer was no, but that he was ready to invite Jesus into his heart. He had heard about Jesus at his development center, but hadn't committed his life to Him yet. So, right there in the middle of their kitchen, Laura led Chico in a prayer of salvation.
She explained to Chico that when someone invites Jesus into their heart, angels in heaven rejoice (Luke 15:10). She told him, "The angels are having a big party for you, Chico, right now."
Chico's smile at that moment will stay with me the rest of my life.
If you're part of Compassion's ministry, you were a part of this moment.
Continue Reading ›
Hey! I have new photos of Amisi. I was so blessed to meet him on my trip to Uganda last month.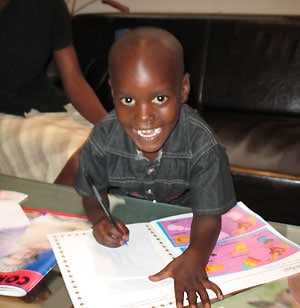 He's such an ambitious child! As soon as I gave him his new coloring book, he was on a
serious
mission to get every page colored.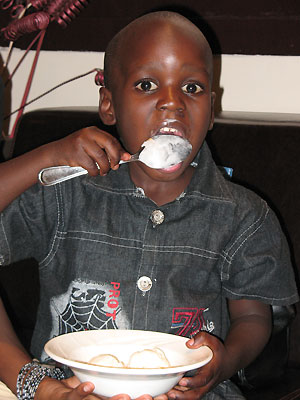 I bought him some ice cream, but he wasn't crazy about it at first. He'd never tasted anything so cold. Once it melted though, he became a fan.
I was told the outfit he's wearing, along with his shoes and socks, were purchased through the Christmas Gift Program.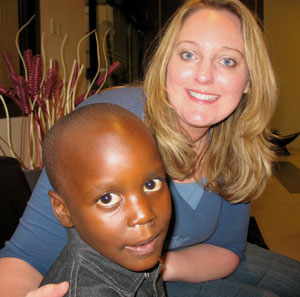 Amisi is so full of life and joy. It's hopeful to know he's receiving health care, food and educational opportunities. And most important — he's learning about God's love. To be just a small part of this is such a blessing. Even though he's only 5 years old, I pray he remembers my visit through the years and knows that I adore him.
During my visit, I also gave him a banner that says, "With God, all things are possible." As he grows up, I hope he clings to this message. I can't wait to see how God works in his life. He may be living in a poverty-stricken African village now, but with God, the possibilities for his life are endless.
Have you visited your child? I'd love to hear about it. Leave a comment and tell me!
And if you have any photos, add them to our Flickr group. Be sure to include brief descriptions and I'll share some of them here in a few days!
Continue Reading ›
One of the things that shocked me when I visited Uganda last month was finding myself scared to death of mosquitoes. It was the strangest feeling to be afraid of something so small — something we usually think of as just a pest. But in Africa mosquito bites don't just make your arm itch — they kill.
Malaria, which is transmitted by infected mosquitoes, is killing one million people a year. Most of these are children under age 5 in Africa. That's right. Malaria, which is preventable and treatable, is killing more than 750,000 children a year in Africa.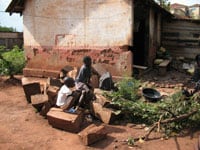 Before visiting Uganda, I never really understood how mosquitoes managed to claim so many lives. But when I visited homes there, I understood. Many of the houses don't have doors — just sheets covering the openings. And the windows are usually bare, too. So at night, the mosquitoes help themselves.
Catherine, a single mother I met in Uganda, told me that before Compassion gave her an insecticide-treated mosquito net, she did everything she could to protect her 10-year-old daughter, Irene. But her efforts were in vain.
"Every night, I tried to cover Irene with a blanket, but she would still get bitten all night long," said Catherine. "I wanted so badly to buy her a net, but I couldn't afford it."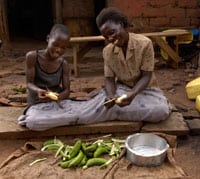 And when Irene got malaria, Catherine certainly couldn't afford doctors' bills. "Before Compassion, I would go pleading to doctors for help and beg to pay later," she said.
Thank God that Compassion intervened! Through the ministry's Complementary Interventions Program, Irene is now getting medicine and sleeps under a quality net. Today, she's healthy and thriving.
You can make a difference and help protect vulnerable children like Irene! Since today is World Malaria Day, take a minute to learn more about this disease and see how you can join the fight!
Continue Reading ›