Bolivia has a very low percentage of youth who graduate from school. Only around 18 percent finish their school studies and 71 percent of them enter university. However, later on 38 percent abandon their studies, according to SITEAL (Educative Information System of Latin America).
Considering the statistics, it is considered a great success when someone graduates from school and especially from university, even more if they have very low economic resources and have had to bear with family problems and mistreatment since they were a child.
Josue, 18 years old, is a resilient young man, as many other sponsored children and youth we have at the child development centers in Bolivia. He recently graduated from Los Olivos Child Development Center, and he is now in his first semester studying civil engineering at the university.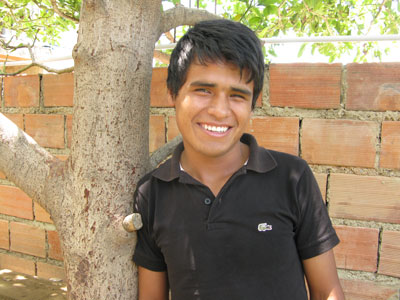 Josue comes from a family of six children. His father is a taxi driver and his mom travels to the tropic side of the city of Cochabamba to harvest coca leaves and that way support her children with a few things.
Josue started to attend the center when he was 7 years old; however, he missed many of the celebrations and special activities because his father took him to work on every vacation, holiday and in any spare time Josue had.
Josue's father used to be a bricklayer, so Josue helped by picking up rocks, passing him buckets, nailing some nails, and passing him some tools. But as Josue got bigger and stronger he did other things, such as prepare the mortar mixture, pour the sand, place the bricks, etc.
"Honestly, I used to go to the center to get away from my house. I didn't want to be at home because I always had to do something, and if I had free time my father always took me to work. I loved to go to the center to get away from my father, but as time passed I learned about having a Christian life and having Christ in my life and that is what helped me to not give up."
Josue still works in construction with his uncle in order to pay for his studies, transportation, clothes, etc.
"My parents don't help me with my studies; they only give me a place to sleep and food. To be able to pay for my studies, because I didn't have money and my parents couldn't support me, I had to work a semester after graduating from school and that way be able to enter the university.

"That's how I support myself, I work during vacations and save the money to study. I work as a bricklayer with my uncle. He is a constructor, and I have been working with him these past months and also on Tuesdays and Saturdays that I don't have classes at the university.

"My dreams are to build my own house as I like it, not that someone else would build it for me. Another dream is to bring innovation to the country — for example, buildings with solar panels that could generate their own energy, buildings that could be attractive for tourists and bring incomes to the country, infrastructures that were never seen, or could attract tourists, like in other countries. I would like to do that, to innovate."
Josue has a very special dream because of what he has gone through with his father:
"Most of the construction workers always have an alcoholic life. Since I will be a civil engineer once I graduate I want to have my construction company with my brother. I would like to implement a half an hour where they could read God's Word. I would like to gain their trust so I could help them with the alcohol problem.

"The construction workers have that problem. The little they earned during the week they spend on alcohol instead of giving it to their children, because they need that support. A child always wants and needs something. I could make all my workers responsible and have a life with Christ, not forcing them. But since I am a worker we always like free time, so who wouldn't want a half-hour seated and paid, so I know this goal I have will work."
Josue still goes to the center to give classes in chemistry and physics to the students that have problems with those subjects.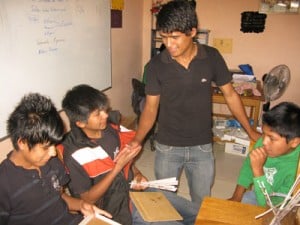 "I don't charge. I couldn't. It is like returning to the center what they did for me for so many years. What they did for me is to form me as a person, support me, help me and encourage me to go on and mainly for placing God in my life."
However someone who also affected Josue's life was his sponsor. Even though Josue didn't receive many letters, his sponsor encouraged him to go ahead.
"Having someone who didn't know me but helped me had an influence in my life because a person who doesn't know kindness is selfish and only wants things for himself.

"My sponsor, by supporting me without knowing me and even living so far away, made me realize and think: Why can't I do that?

"Why can't I give things only for love and not for interest, like if I give something I expect to receive something. These days not many give things for love. People are selfish. So having a sponsor made me a more kind person, to want to give more than to receive. I am also a person that wants to do always better, at the church, at the university, everywhere."
Compassion had a great impact in Josue's life and thanks to sponsorship, he is accomplishing everything he wants. Thanks to the Lord, he also recently learned that he has been accepted into the Leadership Development Program, something he wanted very much.
"I wouldn't like to imagine how my life would be now if I hadn't been in Compassion. If I wouldn't have had the help of the center, my sponsor and all the tutors, I wouldn't be at the university, my parents would be divorced, maybe I would be with my mother or father or even alone, maybe working in something."
At the center Josue was always encouraged to go ahead and never go back, to look for choices. People from the center were always there, and that is encouraging.
It was always meaningful for Josue to receive that support because at his house he often gets insults and mistreatment from his father. His father didn't even want to sign the authorization so Josue could enter the university. He only wants him to work, and is usually drinking. So the support from the center has been so important to Josue.
"I am Josue's tutor since he was 12 years old or even younger, since time passed by he started changing in a positive way, he became more responsible. Between all of the sponsored children he always showed leadership in every assignment, he always encouraged the group, he always wanted to work in what we said.

"Josue is in the choreography ministry and in the band at his church. I see him as a responsible person, he has many potentials that he can still develop and he has a great talent. The good thing is that he is grabbed to God," says Freddy Lazaro.
Everybody who gets to know Josue is sure that God has a great purpose for his life and that Josue will achieve what he sets for himself, always with God's guidance.
"I want Josue to study and not to be apart from the Lord. I want Him to be respectful person and not to be like his father because he doesn't worry about their studies, clothes, he doesn't care about anything. He wants them to work, not to study and he made him work since he was little," says Felicidad, Josue's mother.
At the center he is a reference of the results they want to accomplish with all the sponsored children.
"We feel happy and proud for the results that the ministry has formed. Thanks to God's mercy we have this kind of people that will replicate what they learned at the center, in the place they may be, with their friends, at the university, etc," says Eriberto, the Center Director.
According to Eriberto the values that have been instilled in the students can influence other lives.
"Josue is a person who since I met is interested in learning more about God and is focused on leadership. He is in a ministry and when he speaks with his friends, he is always encouraging them when there is a problem, despite his own problems at home, especially with his father.

"He wants to go ahead, despite that he suffers in those situations, he takes blessing to other people; that is very nice and not everybody does that, usually one drowns in his/her problems."
Josue loves sports; at first one of his main motivations to attend the center was also to play soccer. Eriberto affirms that in the field is where you know the character of a person. "Josue is always encouraging and calming down his mates; he is an example."
Josue still has problems at his house. He is praying for them, and he won't give up. He will continue bearing fruit wherever God places him.