Born into a broken home, with what looked like a dismal future, Luis only had his grandparents. His grandfather, who passed away last year, was a taxi driver, and his grandmother still works, cleaning at a university. She is an alcoholic, and every time she drinks, she argues with Luis because he wants her to quit drinking.
Shortly after Luis' parents separated, his moods often changed from happy to sad. His heart was hurt and in need of much love, love that was given to him by his teachers and other development center staffers.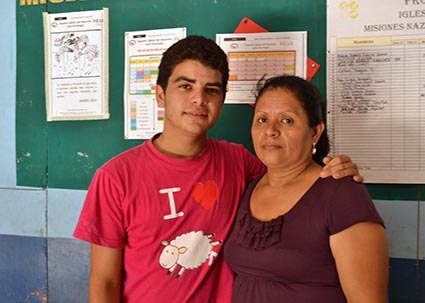 Day by day, Luis was comforted and confronted with God´s word.
"I accepted Christ in an evangelistic campaign. I learned the word of God when I was younger, and learned the meaning to follow Christ, thanks to the child development center."
Luis' life, which seemed to have no hope, turned around one step at a time. Three years ago, he was baptized.
Development center Director Zayda tells us,
"Luis is very active in church events, volunteering in anything he can, like setting up the music instruments, carrying them back to the storage room, evangelizing, etc. Luis always wants to be close to God, take time to read the Bible, and he prays at home."
Luis shares,
"My development center teacher is discipling me. He advises meon biblical topics, or dating, and he gives me good answers. I feel I have grown spiritually."
Zayda says Luis showed leadership skills from the start.
"Since he started coming to the child development center, he was the leader of his group. That is true even today, because if he is not around, everyone misses him. When he is around, all of his classmates are fine.

In activities with other development centers, like camping or vocational activities, he makes friends quickly. I like that of him. I believe God gave him that grace."
At the center, Luis takes vocational classes in subjects such as computers, cake and pastry making and music. He can now work on the computer and is taking piano classes so he can join the church band, which only has guitar players and drummers.
Luis is also using his knowledge of cakes and pastries in a job he got not long ago.
"I have always needed finances, that's why I began to work. I won´t live only from my grandparents help. I have to find way of living.

Working at the bakery is not what I want because I would like to be a policeman for a few years and then become a dentist like my cousin. With the salary I make at the bakery shop, I am paying for my motorcycle and I buy my personal items."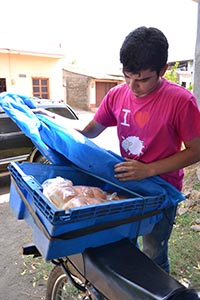 Zayda adds,
"Luis is a good example to all of us here, because he puts much effort into what he does. He goes to school in the morning and takes his motorcycle in the afternoon to distribute bread."
Things don't happen accidentally, and all that Luis has accomplished is part of God´s plan for his life.
Luis tells us,
"What I am now, and all I have done, is because of many people encouraging me and believing in me.

The child development center opened my eyes to picture a better future. I am thankful for the center and the staff. I feel good here.

People are also opening their eyes and realizing that being a Christian is more than just coming to church to pray. It is also to evangelize and help the poor."
Lastly, there is another person that has played an important role in Luis' life – his sponsor.
"My sponsor´s prayers and words have been of much help in who I am now. When she writes to me, I feel encouraged of what she tells me.

For my birthday, she sends me gifts. I value not only the money, but her effort. That´s why I'm thankful with her, and because she has been my sponsor since I enrolled the program."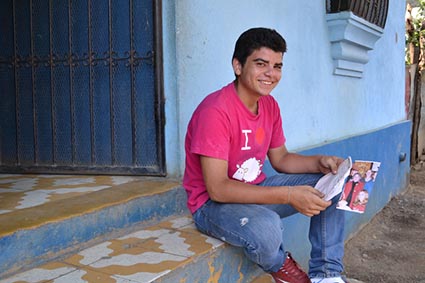 Ten years of dedicated work are yielding positive results, as is seen in Luis and other sponsored children, impacting not only the children but their families and communities as well.
Thanks to God, and the work of so many people in and out of Nicaragua, Luis' future looks brighter today.
---