Inigodawela's Child Survival Program staff suggested that its members build playhouses for their little ones. The church would then provide toys for the children to help promote the importance of play and family togetherness.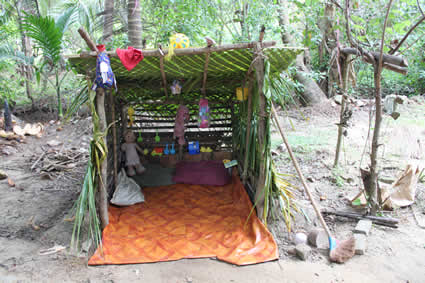 "We honestly didn't think that we would see such amazing playhouses," said Pastor Palitha, the pastor in charge of the Kithu Sevana church in Inigodawela, Sri Lanka.

"The fathers were so keen and enthusiastic about the project. Some built individual playhouses while others got together to build a single playhouse for a couple of families. The playhouses brought families together.

"This made fathers, as well the mothers, think more about their children and the need for children to have a play area of their own. Children play in the hot sun here. There is no proper play area for children. This project has brought our families together."
Some playhouses are made out of wood, some out of slim bamboo shoots. Others have been covered with cloth or palmyra leaves. The materials are different, but the purpose is the same: to encourage play.
Dharshni
Down a lonely, gravel road is the home of Dharshni and her daughter Prabodya, who have been part of the Child Survival Program since the day Prabodya was born. Dharshni and her husband, Piyatissa, were married without their parents' blessing. He was a smoker and a drunkard.
Because she was going through a time of severe depression during her pregnancy, Dharshni tried to abort little Prabodya by drinking kerosene.
Since coming to the Child Survival Program, this family's lives have changed. Loving glances between husband and wife and parents and child are evidence of the miracle that has taken place in this family. A beautiful playhouse, built just for Prabodya, sits right next to their home.
Dharshni, smiling at Prabodya (whose attention was clearly on her playhouse) shares,
"Today is the first day that I put her in her playhouse. She was there the entire morning and didn't want to come out."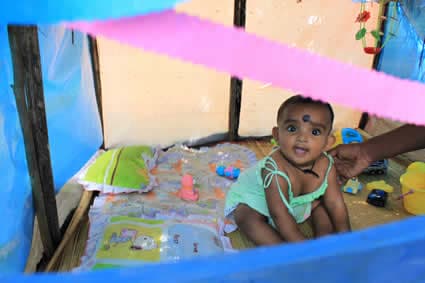 Dharshni went on to say that she and her husband are excited about the playhouse idea.
"We heard about it from the Child Survival Program. It is so good to have a place for her to play. It's a place specially made for her. It's a brilliant idea. I am so grateful."
Nirosha
Nirosha is a mother who is raising two little boys on her own. Nirosha's younger son, Sasidu, is 1 1/2 years old and cannot remember his father. Sasidu's father is on the run from the army. He doesn't come home for fear that the villagers will hand him over to the army.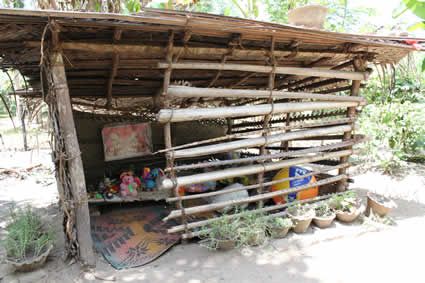 The little playhouse Nirosha built is just enough for Sasidu and his brother. The dedicated mother made it by collecting wood from the nearby wasteland.
"The playhouse idea is a very good one. I am happy that I was able to do it for my children."
Vasantha and Ranjith
Thumesh, the son of Vasantha and Ranjith, has a playhouse made to accommodate the entire family! This playhouse was constructed out of slim bamboo sticks collected from the riverbanks, and has a thatched roof. Vasantha explains,
"My husband and older son built this playhouse for Thumesh. He built the playhouse some time ago when the church introduced the idea to us. But the recent rains spoiled it. There were river snakes in the playhouse and the children refused to go into it. So we broke it down and built a new one."
Three-year-old Imesh, Thumesh's brother, loves to play in the playhouse with his brother.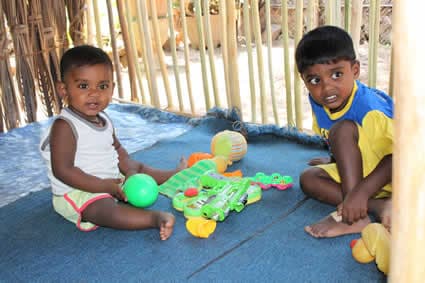 "They play together and they both fall asleep in there. We would have never thought of something like this, if not for the Child Survival Program.

"I always thought that my child must become a lawyer or a doctor, someone important. But now I know that it is more important that my little boy grows up to be honest and kind to others. I want my child to live for others."
Each child's playhouse is unique, the result of much time and effort. The finished projects have not just benefited the children, but the parents as well.
Ranjith also shares,
"I felt proud to have made this playhouse for my son. He now has a special place for himself."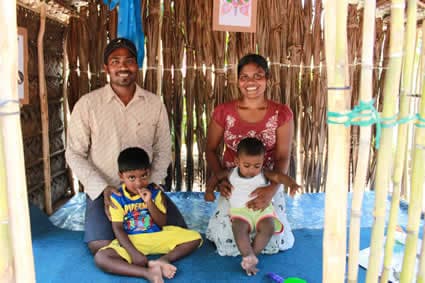 Sadly, of the 25 playhouses that were originally built, only seven are now standing and in a usable state. Recent floods destroyed nearly all of the playhouses that had been built near the lagoon.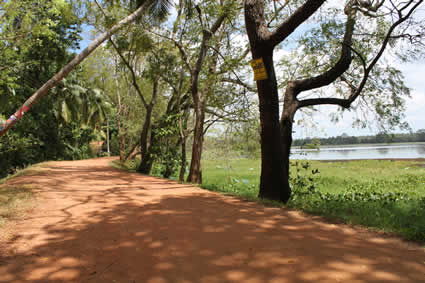 But there is hope, because already the playhouses are being rebuilt in Inigodawela — stick by stick.